Manchester attack: Arena reopens for charity concert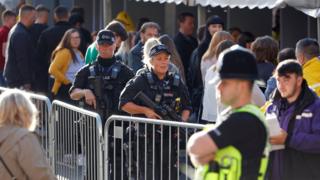 Thousands of people are attending a special benefit concert at Manchester Arena for its first event since May's bomb attack that killed 22 people.
Noel Gallagher is headlining the We Are Manchester show, featuring the likes of the Courteeners and poet Tony Walsh.
Charlotte Campbell, whose daughter Olivia, 15, died in the attack, said she had come back to show defiance.
Suicide bomber Salman Abedi detonated a homemade device in the foyer, following an Ariana Grande concert, on 22 May.
Extra security measures were in place for the re-opening with restrictions on the size of bags that could be taken in.
"We have had to come back to show defiance, to show we are not scared and we don't want Manchester to be scared," said Mrs Campbell, from Bury.
"Music was Olivia's life. If she had been still here today she would have been walking through those doors with us, showing her defiance, that they may have got her but she's not beaten. She's here with us."
For Sally Thornton-Heywood, from Leeds, who attended the Ariana Grande concert with daughter Tilly, 13, said she felt "very emotional".
"I just thought about those parents, the children and the fear that set into them," she said.
"[For us on the night] It was fight or flight. Fortunately we were at the other side of the arena, I just had to get out."
---
At the scene
By Ian Shoesmith, BBC News
As I arrived at the arena with my wife and seven-year-old son, we had to pass through airport-style security checks.
The whole process was very quick though - clearly a lot of people heeded advice and turned up early.
At least half the foyer area is still sealed off and it is quite unsettling being at the scene of the awful events of 22 May.
As they queued fans were pretty quiet, but once they were inside the arena it was far more like a normal gig.
Manchester legend Clint Boon was first on DJ-ing and warming up the crowd with Manchester classics.
Tony Walsh's This Is The Place poem was cheered enthusiastically before he paused to ask for a moment to remember the victims and all those injured.
"We don't want a minute's silence. This is Manchester and I want everybody to make as much noise as they possibly can," he said.
Thousands in the arena didn't need a second invitation, clapping wildly and shouting their message loud and clear: This city will never be silenced.
---
Music fans Jennifer Stuart 28, Sophie Chadwick 27 and Liv Slack, 29, all from Altrincham, said they felt safe as they arrived.
"We're here because of what it means to Manchester.
"It's about everyone coming together. The bands are fantastic as well. And it's going to be an amazing atmosphere," said Ms Stuart.
"We've been here a lot throughout our lives and we would always still come here."
Poet Tony Walsh captured the spirit of the city when he performed his poem This Is The Place, at a vigil the day after the attack.
"It was quite a moment that night and I think it will be a bridge this evening between that day and this day and we can move on and enjoy the rest of the show," he said.
"Twenty-two people lost their lives, hundreds of people were injured and tonight we're paying our respects, we're raising money for a permanent memorial and we're going to have a good time as well."
Noel Gallagher's appearance will also have particular significance - his song Don't Look Back In Anger became an anthem of unity in the wake of the bombing after a crowd started spontaneously singing it at a memorial.
All profits from the concert will go towards establishing a permanent memorial to the victims, which will be built by the new Manchester Memorial Fund.
The concert is being broadcast live on three radio stations.