Ellen Higginbottom murder: Mark Buckley jailed for minimum of 31 years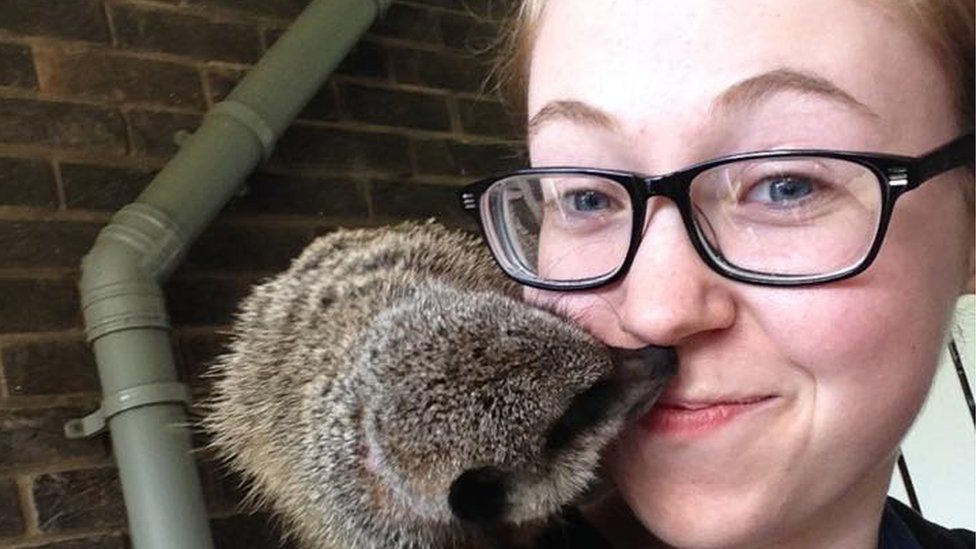 A man who "savagely" murdered a college student at a beauty spot has been jailed for a minimum of 31 years.
Mark Buckley, 52, killed 18-year-old Ellen Higginbottom in a "chilling" and "sexually motivated pre-meditated" attack in June at Orrell Water Park in Wigan, Greater Manchester.
Buckley, of New Hall Lane, Preston, admitted the charge at a previous hearing at Manchester Crown Court.
Miss Higginbottom was planning to marry boyfriend Ryan Warren, the court heard.
Judge David Stockdale QC described the murder as "cowardly and callous".
He said the facts of the case were "frankly chilling".
Ellen was reported missing on 16 June after failing to return home from Winstanley College.
A post-mortem examination confirmed she died from multiple wounds to the neck. Police said she was killed at about 14:00 BST.
Her body was found the next day.
Slightly-built Miss Higginbottom, who did not know her attacker, was not able to physically offer much resistance in the attack, the judge said.
The Honorary Recorder of Manchester told the defendant: "Despite that, her wounds indicated that she tried albeit in vain to defend herself."
He said Buckley who was armed with a knife subjected her to a "savage and brutal attack".
"She would have had no idea it was coming" and was "caught entirely off her guard".
"She simply did not stand a chance. What must have been going through her mind is beyond imagining."
The court heard Buckley took the psychology student's laptop and mobile phone and fled.
Buckley later returned to the park and moved her body which he then intended to bury when it was dark, the court heard.
He was thwarted as a police helicopter with heat-seeking equipment hovered overhead and he made off, the court heard.
Buckley was later arrested and admitted killing Miss Higginbottom but could offer no explanation for his actions.
Neil Fryman, prosecuting, told the court at a previous hearing: "There was a sexual motivation for this offence and also it was pre-meditated."
The court heard Miss Higginbottom was planning to marry her boyfriend.
The judge said: "Although they were young, the couple was already planning to marry and they were planning ahead to having children.
"All that is now lost to Ryan Warren."
Following sentencing, Ellen's father Mike Higginbottom said: "There can never be anything even remotely approaching justice for what was done to Ellen."
He continued: "We were tremendously lucky to have shared 18 years with her and everyone else who knew her will identify with that feeling.
"She made the world a better place with pretty much everything she said and everything she did."
He said having her taken away in such a "pointless and idiotic fashion fills us with an anger and resentment that does not represent who we want to be".
Mr Higginbottom added: "But we wrestle it under control and learn to be better at being people. Because that's what adults do."
"So if there's anyone else out there thinking of doing anything even half this stupid, just take one piece of advice. Grow up."
David Graham from the Crown Prosecution Service said: "Mark Buckley went out that day equipped with a knife to carry out a violent assault.
"He spent a number of hours that morning looking for a lone female to attack."
He said: "We believe he selected his victim at random, and Ellen Higginbottom was simply walking through the park at the time he chose to attack, with tragic consequences."
Det Supt Howard Millington from Greater Manchester Police said: "Buckley callously killed Ellen in broad daylight.
"He attacked her in the most brutal way as she was walking around Orrell Water Park before going to meet her friends who were taking their exams."
Related Internet Links
The BBC is not responsible for the content of external sites.