Abdul Hafidah murder: Gang sentenced for Moss Side killing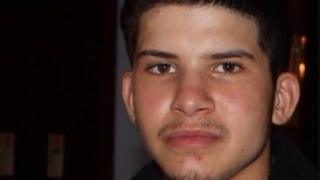 Gang members who chased, cornered and then killed a man after he strayed into their "territory" have been sentenced.
Abdul Wahab Hafidah, 18, was kicked, stabbed, attacked with a hammer and hit by a car during a rush-hour chase in Moss Side, Manchester, on 12 May 2016.
He died from two stab wounds to the neck and injuries to his head.
At Manchester Crown Court, 10 men were jailed for up to 23 years and a 14-year-old boy was detained for five years for murder or manslaughter.
Seven men were found guilty of murder in two trials, three men were convicted of manslaughter and one person admitted manslaughter at earlier hearings.
Mr Hafidah died two days after he was chased from Princess Parkway on to Moss Lane East at about 17:15 BST
Exhausted after a "considerable" chase he was knocked down by Nathanial Williams who was driving a car. He was then assaulted by other gang members.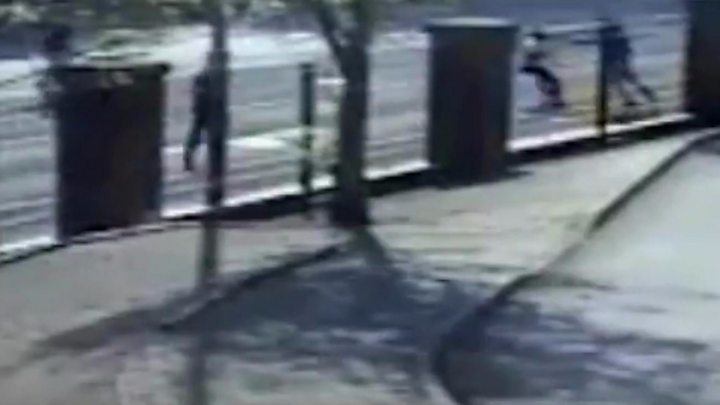 Knife crime: 'There are no winners'
Mr Hafidah was attacked in front of a number of witnesses when he strayed into an area said to be "territory" of a particular gang, the Crown Prosecution Service (CPS) said.
They "cornered their victim" and then violently attacked him as he tried to escape, the CPS added.
His family said: "We do not hate those involved, but we hate what they have done... They have ruined our lives as well as theirs and their families."
Det Ch Insp Terry Crompton said: "Abdul Hafidah lost his life under such tragic circumstances. These sentences demonstrate that there are no winners with knife crime.
"Moss Side is a supportive and close-knit community; incidents like this do not represent the majority of the community."
---
Sentences:
Devonte Cantrill, 20, of no fixed address, was convicted of murder and jailed for life to serve a minimum of 23 years in prison
Durrell Ford, 20, of Darncombe Close, Manchester, was convicted of murder and jailed for life to serve a minimum of 20 years in prison
William George, 21, of Cowesby Street, Manchester, was convicted of manslaughter and jailed for 12 years
Durrell Goodall, 21, of Kings Road, Ashton-under-Lyne, was convicted of murder and jailed for life to serve a minimum of 16 years
Devonte Neish, 18, of Nell Lane, Manchester, was convicted of manslaughter and jailed for eight years
Remekell Samuels, 19, of Caythorpe Street, Manchester, pleaded guilty to manslaughter and was jailed for eight years
Reanu Walters, 19, of Greame Street, Manchester, was convicted for murder and sentenced to life in prison with a minimum of 20 years in jail
Nathanial Jermaine Williams, 19, of Hebburn Walk, Manchester, was convicted of murder and jailed for life to serve a minimum of 19 years in jail
Trey Wilson, 19, of Oakfield Avenue, Manchester, was convicted of murder and jailed for life to a serve a minimum of 20 years in prison
Delroy Wright, 18, of Greame Street, Manchester, was convicted of murder and jailed for life to serve a minimum of 19 years in prison
A 14-year-old boy, who cannot be named for legal reasons, was found guilty of manslaughter and sentenced to five years in youth detention