Manchester Airport plane evacuated after catering van crash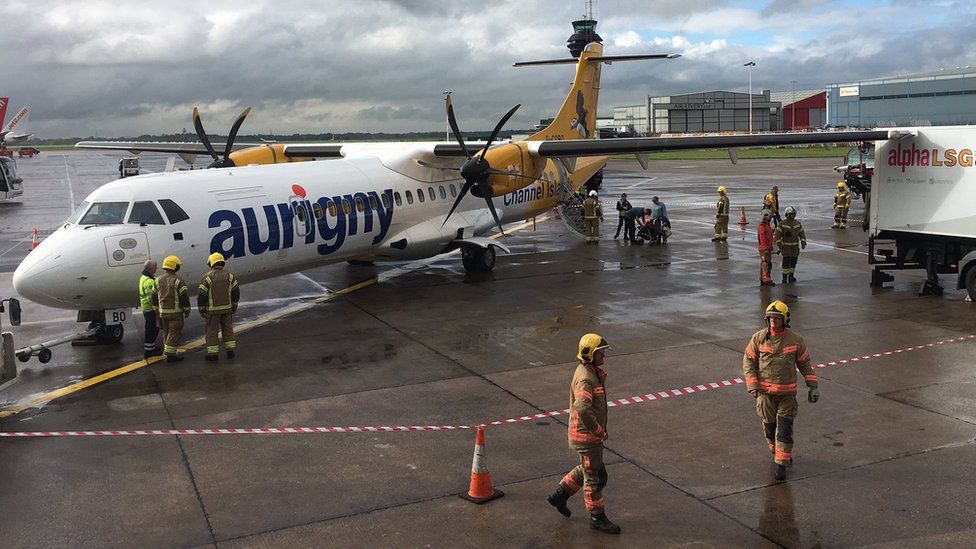 A plane has been evacuated after it was involved in a collision with a catering truck, Manchester Airport has said.
About 40 passengers were onboard the Aurigny Airlines flight to Guernsey, which was being pushed back from the gates at about 09:45 BST.
An airport spokesman said: "The incident is minor with no injuries and we are investigating with our third party partners involved."
An Aurigny spokesman said one of the plane's wings had been damaged.
"It appears the aircraft was reversed, by third-party handling agents, into a catering vehicle during push back," he added.
"The incident is being looked into by the airport authorities and engineers will assess the extent of the damage to the wing of the aircraft."
Passengers have been put on another flight and other Guernsey services from Gatwick and East Midlands have been delayed as a result.
"We apologise to all passengers for the disruption and the inconvenience this will cause," the Aurigny spokesman said.
Passenger Scott Grayson praised the pilot and crew for their response, tweeting: "Fire brigade there in quick time, pilot and stewardesses bang on."
Related Internet Links
The BBC is not responsible for the content of external sites.