'Drive-through' rubbish bins aim to keep motorways clean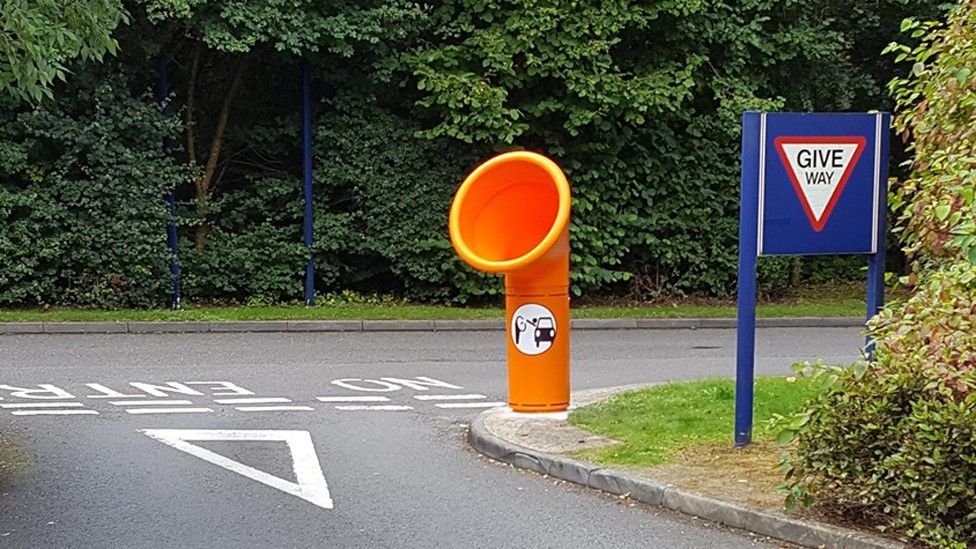 Drivers are being encouraged to throw rubbish out of their windows into bright orange bins in a bid to keep motorways cleaner.
The funnel-shaped bins would be introduced at 12 service areas in the North West, said Highways England.
They are designed so drivers do not need to leave their vehicles. The first are on the M6 at Lymm, Cheshire.
Clean Up Britain founder John Read described the funnel bins as a low-cost gimmick.
Highways England said the first bins were aimed at lorry drivers, as many HGVs used the motorway services,
Further funnel bins would be installed for both cars and lorries at other service stations in the coming weeks.
The bins are designed to be at window height.
Mr Read said: "This appears like a low-cost gimmick to try and pretend that Highways England is doing something about the massive problem of litter on motorways.
"Highways England just needs to do its job properly, and keep the entire motorway network clear of litter, not just 25 so-called 'hotspots'.
"The reality is that virtually the entire network is a litter hotspot."
An initial 10-week trial on the M3 at Winchester last year showed a 25% reduction in litter on the ground within the service area, Highways England said.
The company said more than 40,000 sacks of litter were collected from motorways in the North West last year - an average of 108 sacks for every mile of motorway.
Related Internet Links
The BBC is not responsible for the content of external sites.