Rochdale abuse victims fear they will die before inquiry ends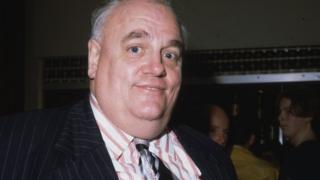 Two victims of child sexual abuse in Rochdale fear they will not live to see the outcome of a national inquiry.
The Independent Inquiry into Child Sexual Abuse (IICSA) will look at abuse allegations in the area relating to the late MP Cyril Smith.
Evidence about Rochdale will be heard next month but a date for alleged abuse by him in Westminster is yet to be set.
At a hearing in London, counsel to the victims, Laura Hoyano, said it was the "last chance for some justice".
Ms Hoyano asked for an indication of the timing of the Westminster probe at the preliminary hearing on Wednesday.
'Especially anxious'
Allegations of sexual and physical abuse at Knowl View School and Cambridge House Boys' Hostel in Rochdale will be examined in the proceedings.
Ms Hoyano has also written a letter saying the scope of the Rochdale strand of the inquiry should be broadened to encompass relevant aspects falling within the Westminster strand, counsel to the inquiry Brian Altman QC said.
The letter said: "It is not possible to erect a barrier between the Rochdale and Westminster investigations."
Addressing inquiry chair Professor Alexis Jay, Ms Hoyano said: "Our two very ill clients... are especially anxious that they will not survive until the Westminster hearings, much less until your report is delivered."
"Our clients have waited decades - some since the 1960s - for answers and they see this inquiry as their last chance for some justice."
Public hearings regarding Rochdale will begin on 9 October and are scheduled to finish on 27 October, with a report expected around six months later.
A timetable for the Westminster hearings is yet to be set, with a preliminary hearing not taking place until January.
These arms of the inquiry are two of 13 areas of public life being scrutinised for child protection failings, ranging from the army to the Roman Catholic Church.
Richard Scorer, a solicitor for some of the the victims, said after the hearing he wants to ensure all evidence relating to Cyril Smith - including about "national political party involvement" - is heard by the inquiry "as soon as possible".
More than 40 men recently alleged they were victims of abuse at Knowl View and Cambridge House, with 24 alleging they were abused between 1960 and 1994 by Mr Smith, who was a governor at Knowl View. He died in 2010.
In October, prosecutors said no action would be taken over fresh allegations of abuse there; a decision dubbed "shameful" by Greater Manchester Police and Crime Commissioner Tony Lloyd.