Rochdale inquiry: Cyril Smith 'a puppet master abuser'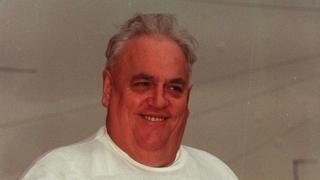 Cyril Smith treated a children's home as his "personal fiefdom" and abused residents for "perverted amusement", an inquiry heard.
Laura Hoyano, representing eight alleged victims, said Smith was a "puppet master" who escaped justice.
Prosecutors have also said "it is difficult to see why" it was decided as far back as 1970 not to charge Smith.
The independent inquiry is examining the late MP's alleged abuse of young boys in Rochdale care institutions.
A dossier of information on the Liberal MP was held by the security services and has been disclosed to the Independent Inquiry into Child Sexual Abuse (IICSA).
The MI5 intelligence on the allegations "raises a spectre of collusion" over his activities, Ms Hoyano said.
It is examining how Smith was able to carry out his alleged offences at a number of institutions, including the Cambridge House children's hostel and Knowl View residential school, where he was a governor.
'Political pressure'
On Monday, counsel to the inquiry Brian Altman QC, said Sir Norman Skelhorn - then Director of Public Prosecutions (DPP) - claimed in 1970 a police investigation of Smith was unlikely to lead to a prosecution.
This was followed nine years later, Mr Altman said, when MI5 was informed the Rochdale Alternative Press (RAP) was told by Sir Norman's successor, Thomas Hetherington, there was no record of the 1970 case.
Referring to the claims, Ms Hoyano asked: "Was political pressure brought to bear upon the DPP from politicians and members of the Liberal Party from 1969 to 1970?
"Why would Sir Thomas Hetherington decide he should lie to journalists, stating that he had not submitted a prosecution file?
"Why would the DPP contact MI5 about this at all? We say this dossier from MI5 raises a spectre of collusion."
In an opening statement for the CPS - which replaced the DPP - Edward Brown QC said changes in the law relating to evidence in child sexual abuse cases in the intervening years could explain the decision not to prosecute Smith.
'Corroboration of accounts'
Since 1995, juries have been able to convict offenders based solely on the accounts of victims when there are similarities in the evidence, Mr Brown said.
But in 1970, he said a jury would have been specifically warned of the dangers of convictions based on uncorroborated evidence, which might have led to the accused being acquitted.
However, he did accept that even then courts were starting to see so called "similar fact evidence" where accounts are similar, could prove the guilt of an abuser.
Referring to the evidence in Smith's case, he said: "It is perhaps difficult to see how [the DPP] would have come to any other conclusion that there was, indeed, corroboration of the complainant's accounts; that is, one supporting the other."