Rochdale inquiry: Cyril Smith 'attended alleged victim's wedding'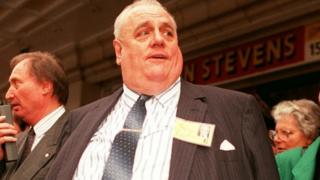 An alleged abuse victim of Cyril Smith told an inquiry how he came face-to-face with the politician at his own wedding.
The man said Smith touched his genitals during what he thought was "a medical" at Cambridge House hostel in Rochdale.
One of the wardens led the teenager to a "quiet room" to meet an "important gentleman", the inquiry heard.
The hearings are examining Smith's alleged abuse of young boys in Rochdale care institutions.
The Independent Inquiry into Child Sexual Abuse was told by a witness that Smith was a guest at his wedding years after he was indecently assaulted by him at the children's hostel.
The politician later helped the couple secure a council house in Rochdale, the inquiry was told.
Cyril Smith 'a puppet master abuser'
MI5 'told of Cyril Smith abuse case lie'
Giving evidence anonymously about alleged abuse at the hostel, the man said: "All I knew was I was going to meet a gentleman and I thought I was having a medical."
The witness said Smith told him he wanted to check for nits and if he had been washing himself properly.
"So he said, 'Take your pants off', so I took my pants off, my underpants, and my T-shirt and stood there with my clothes off," he said.
"He asked me to face the wall. I outstretched my arms and then he started running his hands through my hair.
"He then started stroking me down the back of my head and along my arms and then he started coming down my body."
Then Smith allegedly touched the man's genitals, the hearing was told.
Family friend
The alleged victim had only arrived in the care of the hostel two days before, having fallen out with his foster family during the early 1960s, the hearing heard.
Years passed and the man did not discuss it with his bride-to-be.
But on their wedding day, he recognised one of the guests as the man who had abused him, the hearing was told.
Unbeknown to him, Smith was a family friend of his fiancée.
Brian Altman QC asked: "Did that make you angry?"
"Yes, but I couldn't say anything," the witness replied.
Between 1969 and 1970 police launched an investigation into Smith over sexual abuse claims and the man agreed to give a statement about his experience.
'Cause problems'
Referring to the reaction of his in-laws, he said: "It didn't go down too well, they couldn't believe it because they were obviously supporters of Cyril Smith."
Smith allegedly then paid the man a visit with an accomplice and asked him to retract his statement.
The witness said: "He says it is going to cause him a lot of problems and I said, 'No, what has happened to me is the truth'."
His allegations against Smith were never aired in court after the Director of Public Prosecutions (DPP) decided not to press charges.
The inquiry continues.