Rochdale inquiry: Cyril Smith had hands 'like weapons'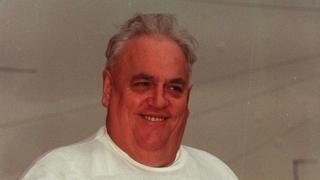 Cyril Smith had hands "like weapons", an alleged abuse victim told an inquiry, and used "medical examinations" to "fondle" him.
The witness told the independent inquiry he had been "spanked" by the late MP while he lived at Cambridge House in Rochdale in the 1960s.
He said Smith was "involved in everything" at the hostel.
The hearings are examining the late MP's alleged abuse of young boys in Rochdale care institutions.
Cyril Smith 'at alleged victim's wedding'
Cyril Smith 'a puppet master abuser'
MI5 'told of Cyril Smith abuse case lie'
The witness described being sexually assaulted by the politician.
"He said 'Take your pants down I want to give you a medical examination'...then he started stroking me.
The man told the inquiry he was 15-years-old and very scared, adding: "He was Cyril Smith. What could I do?"
'Big, fat, flabby'
On another occasion the witness said he and a friend had skived off work to spend the day in Manchester.
When he returned to the hostel Smith was waiting.
He said: "[I was] taken into the quiet room and had the same [medical] examination again. Then a spanking. Obviously big, fat, flabby hands, bang, bang, bang."
If you ever saw those hands they were like weapons, he added.
"He made me take my trousers down. After he spanked me he started stroking me. Saying 'There, there it's alright' but I was crying. He really hurt me."
On another occasion the witness said he was in "severe pain, vomiting and high temperature".
He asked for an ambulance to be called but "then Cyril Smith turned up".
The alleged victim said: "He started prodding around and fondled me...and said 'There's nothing wrong with him'."
But the man was later taken to hospital and found to have a ruptured appendix.
Smith never faced prosecution before his death in 2010, despite enduring a political career dogged by police investigations and accusations of sexual abuse.
The alleged victim expressed anger at the amount of time it took for his allegations to come to light.
"How did he get away with it? Why did people turn a blind eye?" he said.
Corroboration
Head of Legal Services at the Crown Prosecution Service (CPS), Gregor McGill, later told the abuse inquiry that Smith would be prosecuted if he were alive today.
He faced questions about a decision in 1970 by the then director of Public Prosecutions (DPP) Sir Norman Skelhorn not to charge him with child sexual abuse.
The decision was explained in a letter to police three days after he received a file of evidence relating to eight alleged victims.
The claims were "somewhat stale", "completely without corroboration," and there were issues with the character of the complainants, the decision letter had said.
Counsel to the Inquiry Brian Altman QC asked Mr McGill if the decision displayed an "unusually speedy turnaround time".
"It is quite quick," he replied.
In an extract from a statement read to the inquiry, Mr McGill concluded that had Sir Norman "considered the overall evidential picture" that it is "difficult to see how he would have come to any other conclusion other than there was indeed corroboration."
The inquiry heard how the laws on corroboration relating to sexual complaints have changed since the period in question, with more weight now being given to "similar fact" evidence from alleged victims.
"I think the likely decision today would be that Mr Smith would be prosecuted," Mr McGill said.
Mr Altman asked him if the 1970 decision was "reasonable."
"I think it is difficult to say it wasn't a reasonable decision based on the confusion of the law at that time," he replied.
The inquiry continues.