Lyndsey Vaux death: Partner Becky Reid guilty of murder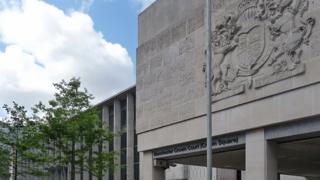 A "bully" who beat her partner so badly she resembled "the Elephant Man" has been found guilty of her murder.
Becky Reid regularly kicked, punched and stamped on 30-year-old mother-of-one Lyndsey Vaux at their home in Wigan, Manchester Crown Court heard.
The 32-year-old's mother, Gillian Reid, 57, was cleared of murder but both were found guilty of assaulting Becky Reid's ex-partner Samantha Newns.
Judge Richard Mansell will sentence both women on Friday.
'Looked dead already'
Miss Vaux, who had a 13-year-old daughter, died on 22 May 2016 following years of abuse by Becky Reid.
The couple had started a relationship in 2009.
Neighbours and other witnesses told the court Miss Vaux was often seen being dragged by her hair and abused in the streets around their home in Platt Bridge, Wigan.
In the months before her death, Miss Vaux appeared downtrodden and constantly bruised, the court heard.
One neighbour told jurors she "looked like she was dead already," and another said Miss Vaux looked like she had been in a car accident.
Miss Vaux was found to have suffered 90 separate injuries and the jury was told she died from the combined effects of multiple injuries over several months.
The court heard that police were called numerous times but Miss Vaux would make excuses for her injuries.
Becky Reid denied using any violence against Miss Vaux.
As police investigated the death of Miss Vaux they became aware of an earlier partner of Becky Reid who was also beaten up by both mother and daughter.
Samantha Newns met Becky Reid in an online chat room in 2004 and they began a relationship which became increasingly violent.
Miss Newns said she was assaulted around 50 times by Reid.
Becky Reid was found guilty of grievous bodily harm to Ms Newns and Gillian Reid was found guilty of assault occasioning actual bodily harm to Ms Newns.