Firefighters 'attacked twice in 24 hours' in Leigh, Wigan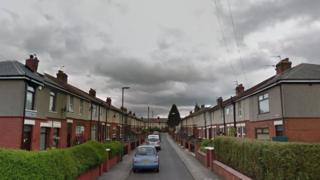 A "volley of missiles" was thrown at firefighters tackling two deliberate fires on the same housing estate within 24 hours, said a fire service.
Stones were thrown by youths on Monday after firefighters put out a mattress fire in Holly Grove in Leigh, Wigan.
The next night rocks were thrown as they crew members doused five bin fires on Cedar Road on the Trees Estate.
Greater Manchester Fire and Rescue Service said it was "completely unacceptable behaviour".
'Lives at risk'
In both incidents the fire engine involved was damaged.
Lee Coleman from the service said: "When crews arrived at each of the incidents they were attacked by youths, who threw bricks and stones at them and the fire engine.
He said in the second attack, firefighters had to "dodge all incoming missiles whilst extinguishing the fire with a hose reel".
"Luckily no-one was hit."
Mr Coleman said: "These attacks not only put our firefighters at risk, but also prevents them from attending other incidents, where potentially people's lives could be at risk."
Greater Manchester deputy mayor for policing and crime Beverley Hughes said: "This is the sixth time firefighters have been attacked in the space of two weeks, with two of those attacks occurring in a 24 hour window just this week.
"These attacks take up the extremely valuable time and resources of our emergency services and will not be tolerated."
She said she would work closely with Greater Manchester Police to investigate attacks on emergency services with "serious consequences" for anyone found to be involved.