Moors Murders: Judge rules on Ian Brady body disposal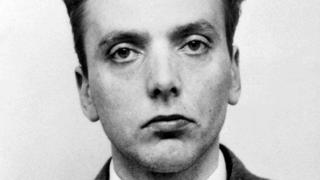 Moors Murderer Ian Brady's remains must be disposed of with "no music and no ceremony", a High Court judge has ruled.
Two councils asked the judge to step in to ensure the disposal of the serial killer's body did not cause "offence and distress" to his victims' families.
Sir Geoffrey Vos said Brady's executor had failed to make proper arrangements for disposal of his remains.
Brady died aged 79, on 15 May, but his remains have not yet been disposed of.
Brady and Myra Hindley, who died in prison in 2002, tortured and murdered five children in the 1960s.
Sir Geoffrey acted after Oldham and Tameside councils raised concerns that five months after Brady's death his executor, solicitor Robin Makin, had failed to make proper arrangements for the disposal.
In his judgement, he noted assurances sought by coroner Christopher Sumner over concerns Brady's ashes might be scattered on Saddleworth Moor, where at least three of his victims were buried.
Tameside and Oldham councils brought the action over similar concerns from relatives, with parts of the moor in both boroughs.
'Abhorrent and distressing'
This was compounded by Mr Makin's reluctance to discuss arrangements for the disposal of the remains.
"We know that the relatives and residents alike found even the suggestion that his ashes may be scattered over Saddleworth Moor to be abhorrent and distressing, especially because 13-year-old Keith Bennett has never been found," the councils said after the hearing.
As part of his ruling, Sir Geoffrey accepted a proposal for a Tameside council officer to arrange for the disposal was the "best available".
"I am satisfied also that it is both necessary and expedient for the matter to be taken out of Mr Makin's hands," Sir Geoffrey said.
"Even after a hearing that has lasted for one and a half days, the parties have not been able to agree precisely how the deceased's body should be disposed of."
In issuing directions about the body's disposal, Sir Geoffrey said: "I decline to permit the playing of the fifth movement of the Symphony Fantastique at the cremation, as Mr Makin requested."
He quoted the Wikipedia page for the piece that states the musician sees himself "at a witches' sabbath, in the midst of a hideous gathering of shades, sorcerers and monsters of every kind who have come together for his funeral".
"I have no difficulty in understanding how legitimate offence would be caused to the families of the deceased's victims once it became known that this movement had been played at his cremation," Sir Geoffrey said.
'Secretive solicitor'
The judge said Mr Makin could not be "entrusted" with Brady's ashes because he had been "so secretive".
Sir Geoffrey said: "Had he (Mr Makin) discussed the matter openly with the claimants and with Sefton Borough Council and given clear undertakings that he was not intending to scatter the deceased's ashes in their areas, these proceedings might have been avoided.
"Even now, he has refused to say what he intends to do with the ashes if he is allowed custody of them."
Brady was jailed in 1966 for murdering John Kilbride, aged 12, Lesley Ann Downey, 10, and Edward Evans, 17.
In 1985, he also admitted killing Pauline Reade, 16, and 12-year-old Keith Bennett, whose body has never been found.
Despite pleas from Keith's mother Winnie Johnson, who died in 2012, Brady did not reveal where her son was buried.