Rochdale inquiry: Pupil 'spanked by head over Cyril Smith abuse'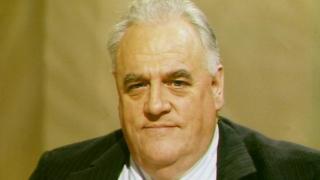 A school head teacher spanked a pupil as punishment for accusing Cyril Smith of sexual abuse, an inquiry has heard.
The witness told the Independent Inquiry into Child Sexual Abuse Smith touched him inappropriately when he was 10 in the staff room at Knowl View.
He said when the head of the school - where Smith was a governor - found out, he hit him in front of other pupils.
The hearings are examining the late MP's alleged historical abuse of young boys in Rochdale care institutions.
'Chaotic environment'
The alleged victim, who cannot be named for legal reasons, told the inquiry he was placed at the residential school for boys in 1969 in a shared dormitory called "Nirvana" with older boys.
He described a chaotic environment in which children and adults - including Smith - came and went as they pleased.
The inquiry heard on one occasion Smith screamed and shouted at the alleged victim in the school staff room.
The witness said he was subsequently sat on Smith's knee, and he proceeded to "put my hand on his penis".
Smith, who was fully clothed, was disturbed when a staff member entered the room, the inquiry was told.
The alleged victim said he was punished when the then headmaster - John Turner - learnt about the incident.
The headmaster "spanked me" on the backside in front of other boys in the school gymnasium, he claimed.
He said Mr Turner accused him of "trying to ruin the man's career".
The witness believes he was further punished for his allegation against Smith by being "sent all over the place" to several other institutions.
He was subsequently returned to Knowl View before finally leaving at 16.
During his time at the school, the witness claimed he was sexually assaulted by groups of older boys and a teacher.
The inquiry continues.