Manchester students flee fire in high-rise accommodation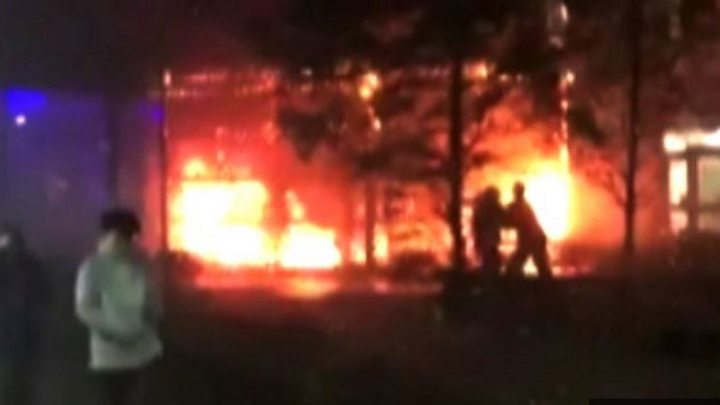 Hundreds of students were forced to flee a high-rise accommodation block after a fire broke out.
The blaze started at the Unite Students Parkway Gate halls in Manchester at about 22:45 BST on Monday.
Police initially suspected the fire was started deliberately, but investigation later revealed it was thought to have been caused accidentally.
Several students claimed they had not heard fire alarms sound.
One student, who asked not to be named, told the BBC: "The parkway accommodation is in three blocks in a triangle.
"The fire was in our block but no students I spoke to heard a fire alarm. However, the alarms seemed to have gone off in the other blocks, which is a bit odd."
A spokesman for Unite Students said: "We are aware of claims that some alarms worked and others didn't. We are investigating these claims alongside Greater Manchester Fire and Rescue Service."
Another student, Luke McAvoy, said: "We were on the 12th floor in the kitchen, and one of our flatmates came in saying loads of people are at their windows over the road.
"They started waving at us but we had no idea what was going on. There was no alarm and I couldn't smell the smoke either, but when we got to the stairs it was really smoky."
Fire station manager Steve Forster said his team had done a "great job" to stop the flames spreading through the building, which can house up to 729 students from both the University of Manchester and the city's Metropolitan University.
All students were safely evacuated following the fire, which started in a ground floor storeroom.
The ground floor room remains cordoned off and an investigation into the cause of the blaze is continuing.
Fire crews remained at the Chester Road site for about three hours alongside paramedics, who attended as a precaution.
Mr Forster added: "A specialist fire protection officer is visiting Parkway Gate to work closely with the building owners to check the fire safety measures and offer reassurance to residents."