'Lives at risk' after Manchester heart surgery suspension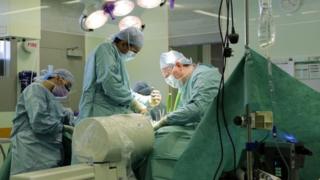 Patients' lives are at risk after the suspension of specialist heart surgery in Manchester, campaigners claim.
Cardiac surgery was stopped at the Adult Congenital Heart unit at Manchester Royal Infirmary in June amid uncertainty due to a national review.
Patients face long appointment delays with some forced to travel hundreds of miles for surgery, the Children's Heart Association (CHA) said.
"Interim arrangements" are in place to ensure safe care, hospital bosses said.
Manchester University NHS Foundation Trust (MFT) said some patients will have to travel Leeds, Newcastle or Sheffield while others may receive care on the Manchester site from a specialist doctor from one of these centres.
Reimbursement of travel costs is available for patients who must travel, the trust said.
But the CHA, a regional charity, told BBC Radio 5 live the situation was unsafe because patients are not being properly monitored, they may face long delays for appointments and serious problems could be potentially missed.
Staff recruitment
The MFT said the service's suspension came about because uncertainty about its future led to senior doctors leaving and they could not be replaced.
It may also have an impact on some children, as those who are due to be transferred to adult services may need to remain "temporarily under the care of their current clinician", MFT said.
The trust said it was working to recruit a consultant surgeon, consultant cardiologists and a specialist nurse to "help stabilise" the service.
About 5,000 teenagers and adults with congenital heart problems are treated in the north west of England.
A number of hospitals are expected to lose their congenital heart units under plans to reorganise care across the country.
In July 2016, NHS bosses told the Manchester Royal Infirmary, as well as units in Leicester and at the Royal Brompton in London, to halt complex surgery on patients born with heart problems.
MFT said it appreciates "this situation has caused uncertainty and anxiety for patients" but patients "are being monitored and seen in priority order" and the trust has "taken every effort" to keep people informed and supported.
A statement from NHS England said it wants "patient care to be the best it can be".
"This is exactly why the Congenital Heart Disease standards were developed and why we have been ensuring thorough analysis of the very full responses received to the consultation", it said.
A decision will be made in November in order for a plan for "the long term delivery of these services" to be "implemented as quickly as possible," it added.
The Department of Health said there would be no comment until the NHS England process concludes.