Rochdale inquiry: Paedophile 'camped outside Knowl View'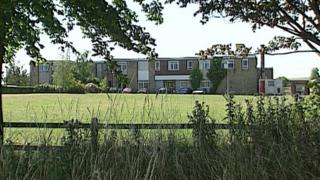 A convicted paedophile was considered "part of the furniture" at Knowl View school, a former head teacher has told an inquiry.
Stephen Bradshaw took over at the school after Roderick Hilton had entered the building at night and sexually assaulted a pupil.
He told the Independent Inquiry into Child Sexual Abuse he was "made aware" of the assault when he started.
Hilton was later found camping by the school's fence.
The inquiry is examining abuse of young boys in Rochdale care institutions including Knowl View.
Mr Bradshaw, who was headmaster from April 1991 to July 1994, said he was "nervous" about Hilton especially as he had moved on to the site with his wife and two children.
"I think people felt it was resolved because he was serving a prison sentence but I had no idea when that was, how long he'd been convicted for and would he back in the locality," he said.
'Agency sympathy'
Hilton did come back to the site later on, Mr Bradshaw said.
He told the inquiry: "The day he was released he was spotted with his tent on the footpath."
In January 1993, Mr Bradshaw wrote a memo which said Hilton had been a "problem" at the end of the previous term and had been waiting at the end of the drive for children from the school.
Hilton's tent was visible from his child's bedroom, Mr Bradshaw added.
The inquiry also heard that a report by Mr Bradshaw while he was in charge described "agency sympathy" towards Hilton.
Mr Bradshaw said he felt there was a reluctance to get a restraining order on him.
"It seemed simplistic to me - he'd committed an offence against the school and was returning to the scene of the crime.
"It does seem he was part of the furniture," he said.
Some members of staff knew Hilton by name and were aware that he'd been sleeping in the school's minibus and the school's buildings on occasion, the inquiry heard.