Newlyweds' families in Manchester hotel 'scrap'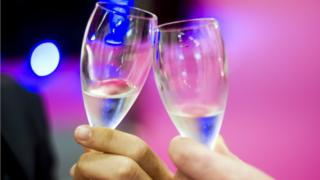 A wedding reception turned sour when a fight broke out between the newlyweds' families.
Glasses were thrown and tables were flipped when about 10 guests started a "scrap" in the foyer of a Manchester hotel, police said.
Staff called police at about 01:30 BST when the group started arguing.
The group left before Greater Manchester Police arrived, and officers recorded a crime of affray, the force said.
Its city centre team tweeted: "Congratulations, you may now start fighting.
"1.30am 999 from hotel - Both families at wedding start arguing, turning tables over & scrapping."