Greater Manchester Police to close specialist sex crime unit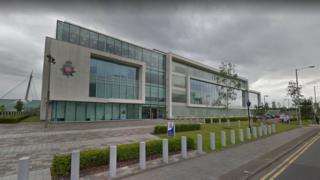 Greater Manchester Police (GMP) is closing its specialist sex crime unit, the force has confirmed.
GMP said officers from its Serious Sexual Offences Unit (SSOU) are being deployed at a local and borough level.
The move will help specialist officers work more closely with local partners to support rape victims, said a force spokesman.
Manchester Rape Crisis said reported rapes had doubled in the area since 2015 and it was "very concerned".
The SSOU was established in 2012 to investigate all offences of rape and attempted rape with specialist officers undergoing a six-week training course to give them the "relevant, knowledge, skills and empathy" to deal with such cases.
GMP said it started moving officers from the unit - comprising one detective chief inspector, three detective inspectors, eight detective sergeants and 62 detective constables - at the end of March.
Chief Constable Ian Hopkins said the move was part of its future strategy to localise policing.
He said it provided "the best possible support to victims of sexual violence", working in partnership with and providing financial support to St Mary's "the country's best sexual assault referral centre" as well as independent sexual violence advisers.
'Crippling trauma'
Dr Sarah Darley, chair of Manchester Rape Crisis, said there was a "huge and rising demand" on its services.
She said: "We know the serious and crippling trauma that survivors can experience.
"In reporting to the police, survivors can feel like they are reliving that trauma all over again, so it is vital to have specially trained officers who understand the impact of sexual violence in order to support people coming forward to report these crimes."
Joanna Higson, a volunteer at the charity, has petitioned Chief Constable Ian Hopkins and Greater Manchester mayor Andy Burnham to save the unit.
More than 2,500 people have signed the petition so far.
"Rape is the crime least likely to end in a conviction... we believe removing the specialist unit will see the conviction rate fall further still."
Duncan Craig, chief executive of Survivors Manchester which supports male rape and sexual abuse victims, said he hoped that any changes "remained victim-focused" and partnership pathways were "not compromised".
He said there had been a rapid increasing in referrals to the charity last year, with a new case every day.
The SSOU featured last year on the BBC Two programme, The Detectives.