Manchester Chinese supermarket fire: Some residents unable to return home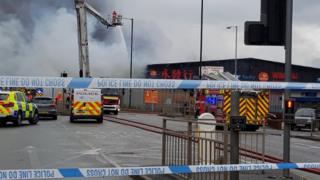 A fire that broke out at a Chinese supermarket in Manchester has left some residents unable to return to their homes after they were evacuated.
At its peak 60 firefighters tackled the blaze that started in the roof and the first floor of Wing Fat Cash and Carry in Gorton Road at about 11:25 BST.
All staff were accounted for. The cause of the fire is not yet known.
Due to smoke some residents will tonight stay at a rest centre that has been set up nearby.
They will stay at The Grange Community Resource Centre in Pilgrim Drive.
Incident commander Tony Bryan, from Greater Manchester Fire and Rescue Service, said there is "significant structural damage" and the building is "extremely unsafe".
He said firefighters are not able to enter the property because of the risk of structural collapse.
People are being advised to keep doors and windows closed and motorists are being urged to avoid the area, including those attending the Manchester City game against Wolverhampton Wolves at 20:00.
Ashton Old Road has been closed between Pottery Lane and Fairfield Street and will remain shut until Wednesday morning.