Hospital double death crash driver, 90, spared jail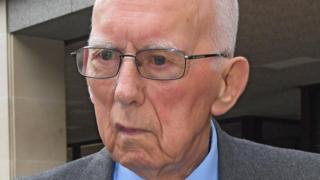 A 90-year-old driver who killed a couple by reversing into them has been given a two-year suspended sentence.
Philip Bull made a "genuine but catastrophic mistake" when he backed into Clare Haslam, 44, and Deborah Clifton, 49, outside Withington Hospital, a judge said.
Manchester Crown Court heard Bull pressed the accelerator instead of the brake in his automatic car.
He earlier admitted two counts of causing death by dangerous driving.
Bull had been dropping his wife Audrey, 87, at the hospital in Manchester on 7 March when he hit Ms Haslam and Ms Clifton.
'Soulmates'
The pair, from Chorlton-cum-Hardy, were both taken to hospital where they later died.
Bull, who served in the Armed Forces, was "hugely remorseful", the court heard.
"I cannot think of any way worse to come to the end of my life having now ended the lives of others," he told the author of a report.
Richard Vardon, defending, had earlier argued the circumstances of the tragic case were "exceptional".
He said Bull had cared for his wife of 65 years, who suffered from a number of conditions, including Alzheimer's disease, for more than a decade.
She could not be cared for at home without her husband, Mr Vardon said.
'Completely unintended'
Judge Martin Walsh said he had chosen to suspend the jail term after "careful and considered reflection".
He said this would be "difficult to accept by some, if not all, of the family and friends of the deceased" and "in the light of their personal grief, such feelings may be understandable."
"I want to make the obvious point that nothing that this court can do can put right the wrong, or restore the devastating loss that occurred.
"The sentence that this court imposes is not intended to and cannot ever reflect the value of the lives lost."
He told Bull: "You made a genuine but catastrophic mistake. The consequences were unforeseen and completely unintended.
The judge said an "immediate sentence of imprisonment" would not "serve as a deterrent" nor "put right the harm that has been done".
"The fact is that you will live for the rest of your life in the knowledge that your unintended actions on this occasion resulted in the deaths of two people.
"That is your burden to bear," he said.
'It was all about him'
Outside court, Ms Clifton's sister Julie expressed anger at the sentence.
She said: "His defence barrister said how remorseful he was but he has never once directed that at the family.
"That's the least he could have done, was to address us and apologise but he didn't even do that. It doesn't matter how old you are, if you cause death by dangerous driving.
"He took our sister away, mother and nana away, he's taken everything away and there is still not a day goes by where we don't re-live every single moment of what happened.
"I sit there with the vision of identifying my sister. Seeing her in the chapel of rest and now going through my mind every minute of exactly what happened to her.
"We weren't considered in there, it was all about him.
"I hope he remembers this for the rest of his life and I hope he lives a very long time, I do."
Some family members gasped in the public gallery as the judge announced the sentence was to be suspended, with several leaving the courtroom.
After sentencing, one woman turned to Bull's relatives and said: "I hope your dad lives a long time to regret this. I hope he thinks about them every day."
Ms Haslam and Ms Clifton had a child and were "blissfully happy soulmates", their families said.
Bull had no pre-existing impairment to his driving and his licence had been repeatedly renewed every three years.
The defendant had no previous convictions and could properly be described as a man of hitherto impeccable character, the judge said.
Bull was also banned from driving for life.