Wigan man's chance reunion with long-lost homeless brother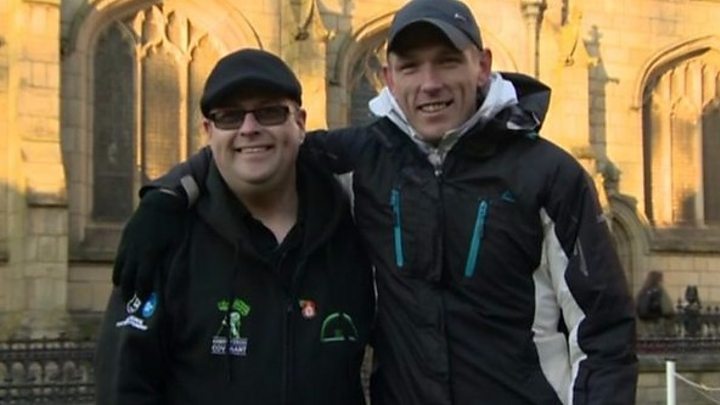 A veteran who offered a homeless man a cigarette discovered he was the long-lost brother he had last seen 28 years ago.
Roy Aspinall was leaving a Remembrance Sunday service in Wigan, Greater Manchester, when he saw the man.
The 36-year-old said "something in his features" made him curious, and he decided to ask more about him.
It quickly transpired the man was Billy White, 28, the brother Mr Aspinall had last seen as a baby in a pram.
'In tears'
Mr Aspinall, who served in the Queens Lancashire Regiment, said he "filled up" with emotion when the significance of the chance encounter became clear.
"I rang my sister and said I've got this man here and he seems to have all the answers," he said.
"I was in tears when we worked it out."
Mr White said: "I just came to the church yard to sit down before finding somewhere to get my head down when it goes dark.
"This guy came over to me and was asking me lots of questions, about my mum and my sister. He said I'm your brother. I didn't believe him at first.
"You can't explain that feeling inside. It's mad. I'm still in shock. My mum had always spoken about [Roy]."
Mr Aspinall immediately invited Mr White to come and stay at his home. The father-of-six said the pair have since formed a close bond.
"I feel like we've never been apart. To see my own features in someone else is just something I've never had before," he said.
"To say 'I've got a brother', to use those words, is so foreign. But it's a feeling of joy, not tears, which is quite new to me, other than having my own children."
'Many similarities'
The brothers are both children of Lorraine White, but due to family divisions Roy was brought up by his aunt.
Years later, his biological mother went on to have Billy, who stayed with her until he was 10 before going into care.
The years that followed saw him spending three periods on the streets, including the last eight months.
Mr White said since the chance meeting he has got support with housing and addiction, and found employment as a driver's mate for a logistics firm.
"My life changed when he came over to me. I'm living with him at the moment. He looks after me, like a big brother should," he said.
Mr Aspinall remembers just one occasion when he saw his brother, as a baby at a relative's house.
The brothers are now enjoying catching up.
"We've noticed so many similarities," said Mr Aspinall, who works as a volunteer for a veterans' support group in Wigan.
"I thought I was the only one in the family who drank coffee. But when asked what he wanted he said coffee with milk and two sugars, which is exactly what I have."
Mr White said: "We've both got dimples. It's like a big explosion, talking and laughing and sometimes we repeat each other.
"We're non-stop talking all the time... but we've now got the rest of our lives to know each other."