Bomb squad deal with 'chalk bomb' left on Manchester Airport link road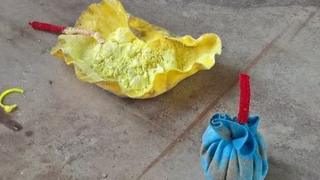 A key airport link road was closed while bomb squad officers investigated suspicious package which turned out to be toy "chalk bombs", police said.
Cheshire Police were alerted at 14:00 GMT to a "suspicious package" by workmen on the A555 Manchester Airport Link Road in Wilmslow, Cheshire.
A cordon was erected around the package and roads were closed as a precaution.
Cheshire Police admitted it was "drawing a line" under what happened and "chalking it up to experience".
"Having examined the package, (officers) have now established that it contained chalk and there is no risk to the public."
It is not known who owned the "chalk bombs".