Fatal Thailand boat crash: Weather warnings 'ignored'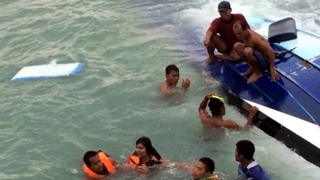 The captain of a Thai speedboat that crashed killing two Britons accelerated through waves after ignoring monsoon warnings, an inquest has heard.
Monica O'Connor, 28, and Jason Parnell, 46, died when the vessel capsized near the island of Koh Samui in Thaliand on 26 May 2016.
Thirty-two people were on board when the crash - in which a German and a Chinese national also died - occurred.
South Manchester Coroner's Court heard small boats were warned not to sail.
Boat captain Sanan Sridakeow was jailed for a year and operator Limited Partnership Angthong Discovery Tour was fined 15,000 Thai baht (£342) after admitting recklessness.
Senior coroner for South Manchester Alison Mutch read sentencing remarks which said the captain accelerated through the waves, sailing too close to the shore and the boat did not have the right amount of life jackets for the passengers on board.
'Something wasn't right'
Mr Parnell, from Sileby in Leicestershire, was celebrating his first wedding anniversary with wife Puja who told the court she knew "something wasn't right" when the boat got stuck at the start of the trip.
Tim O'Connor, was on his honeymoon with Mrs O'Connor, from Sale, Greater Manchester.
He and Mrs Parnell said no safety briefing had been given onboard and passengers were told to only wear life jackets when snorkelling or kayaking.
Mrs Parnell said the weather deteriorated when the boat started to return to land after the final stop.
She said: "If I had a choice I wouldn't have got back on. Something felt really uneasy."
She said the boat was tipped upside down after it was hit by a wave and she managed to get a life jacket and move to an air pocket where she was pulled to safety by rescuers.
She said her husband's body was not found for four days.
Mr O'Connor described his glasses falling off as the boat capsized. He told how he frantically searched for her as the boat filled with seawater.
After he "swam down and out of the boat", he reached land where a German woman told him she had seen Mrs O'Connor.
"She said Monica's face was white in the water," he said.
He said he went to hospital hoping his wife was among passengers who swam to another part of the shore but once there was asked to identify her body.
The inquest is expected to conclude on Tuesday.