'Bunny boiler' businesswoman plotted to rob ex-lover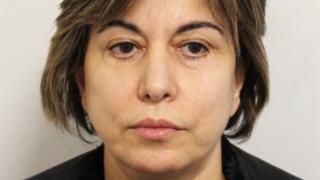 A businesswoman described as a "bunny boiler" has been jailed after arranging a robbery at her former lover's home.
Karine Solloway, 59, planned the raid at Robert McKendrick's house after loaning him hundreds of thousands of pounds during a five-year affair.
Four men burst into the home in Alderley Edge, Cheshire, before tying up Mr McKendrick's wife and daughter and stealing items worth £157,000.
Solloway was sentenced at Chester Crown Court on Friday.
Speaking outside court, Mr McKendrick's wife Priya said she was "delighted" with the sentence.
"She's a bunny boiler and she's going to the right place," she said.
The men who carried out the robbery were also jailed after admitting conspiracy to commit robbery.
Ex-military servicemen Paul Prior, 34, of Woolwich, London, and Iain McGarry, 48, of Weybridge, Surrey, received sentences of 10 and eight years respectively.
Carer Kimpton Mativenga, 31, of St Albans, was found guilty of the same offence following a trial, and jailed for six-and-a-half years.
Russian national Solloway, who had been living in London for 30 years, was found guilty of conspiracy to commit robbery following a trial last month.
Judge David Hale described the October 2016 raid as "extraordinary".
The court heard the businesswoman, who was in Moscow at the time, had planned the robbery with Prior, who went on to recruit McGarry, a qualified paramedic, and Mativenga as "muscle".
'Double life'
Solloway, who ran a successful business referring wealthy Russian clients for medical treatment in the UK, met fellow businessman Mr McKendrick at a party at the Russian embassy in London in 2008.
Andrew Ford, prosecuting, said Mr McKendrick had led a "double life" during their affair and when his business ran into difficulty Solloway lent him money.
The exact figure lent to Mr McKendrick was disputed but the court heard it may have amounted to more than £1m.
The relationship ended "acrimoniously" in 2013 but there had been legal attempts to settle the debt Mr McKendrick owed to Solloway, the court heard.
Mr Ford said: "But she then met Paul Prior and the events took a sinister turn."
Mr McKendrick was in Africa on the night of the incident and his wife and daughter were watching The Apprentice at about 22:00 BST when the robbers struck.
Mr Ford said at one point Mrs McKendrick had cling film stretched over her face.
In a statement read to the court, Mr McKendrick, who is now going through divorce proceedings with his wife, said: "I feel responsible now for the attack as if I had never had the affair my family would never have been assaulted and traumatised."
Simon Csoka QC, defending Solloway, said: "Something has simply snapped in her and it's no reflection whatsoever of her true character."