Rochdale Council leader resigns over child abuse fallout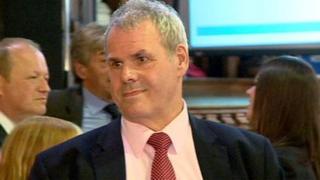 The leader of Rochdale Council has resigned over efforts to see him suspended over the child sex abuse scandal.
In a letter to Labour colleagues, Richard Farnell said he was to step down due to a "persistent campaign" by a "small minority" inside the party.
He had been accused by party members of "not telling the truth" to an inquiry into abuse at a residential school.
A Rochdale Council spokesman said his deputies would take over his duties.
Mr Farnell, who regained the position of Labour council leader in 2014, told the Independent Inquiry into Child Sexual Abuse he was "unaware" of problems at Knowl View school in the 90s.
'Political malice'
The hearings are examining alleged abuse of boys in Rochdale, which it has been claimed he was told about during his first stint in office.
In his resignation letter, he said it had "become clear, despite the fact the independent inquiry has yet to conclude its investigations, this campaign has become a distraction from the important work being carried out... and that is damaging the council and the party".
Mr Farnell said the accusations were "based entirely on political malice and pure speculation".
"There is no evidence whatsoever I was informed of the events at Knowl View [and] there is no evidence whatsoever that there was a political cover-up," he said.
He said he was stepping down with a "heavy heart", but it was "now time for someone else to take our great borough forward".