Cockleshell Heroes: Memorial for WW2 hero James Conway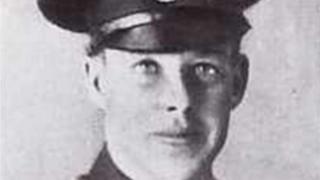 A memorial to a Royal Marine who was executed after taking part in a World War Two mission to blow up enemy ships has been unveiled in his hometown.
James Conway was among 12 men chosen to paddle over 80 miles in canoes to plant mines on vessels in the German-occupied French port of Bordeaux in 1942.
Their efforts were depicted in the 1955 film The Cockleshell Heroes.
Only two men survived the raid. Conway, from Stockport, Greater Manchester, was captured and killed.
Its significance reportedly led Prime Minister Winston Churchill to say he believed the mission could have shortened the war by six months.
The ships were targeted as they carried cargo such as fuses for shells, ball-bearings, oils and natural rubber - needed for the Nazi war effort.
Local councillor Kate Butler said the memorial - unveiled on the 75th anniversary of the mission - commemorated "the bravery and the life of a local young man who paid the ultimate price for this nation".
When the men signed up for "hazardous service", they were unaware their job was to attack enemy ships after padding in canoes.
But after about four months of training near Portsmouth, they agreed to take part in the venture - named Operation Frankton - when its details were revealed to them shortly before the mission.
Norman Colley, one of the marines who did not end up on the raid because of an injury, has said previously: "I thought the lads accepted it very well. Nobody expected to get back off it - it was a suicide mission."
On 7 December 1942, 10 marines were launched in five two-man canoes off a submarine that had set off from Portsmouth.
Some later drowned while others were captured and executed.
Only two crew members made it to the port - canoeing by night and resting by day - resulting in damage to five ships.