Rochdale Council leader backs predecessor over evidence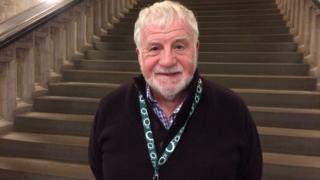 Rochdale Council's new leader has said people "should believe what has been said" by his predecessor about evidence given to a child sex abuse inquiry.
Deputy leader Allen Brett was chosen to succeed Richard Farnell on Monday.
Mr Farnell resigned on Friday over a "persistent campaign" questioning what he told the Independent Inquiry into Child Sexual Abuse about problems at Knowl View School in the 1990s.
Mr Brett said he hoped the inquiry will show "what Richard said was true".
Two cabinet members have stood down in response to the selection of Mr Brett.
'A disgrace'
Mr Brett, who said he was "proud and humbled" to be voted in as leader by the council's Labour group, called for people to await the outcome of the inquiry before making judgements.
"All I can do is appeal to people to wait for the result of the inquiry and also to believe what has been said," he said.
"Hopefully, when the inquiry comes out, everything will show that what Richard said was true."
In October, Mr Farnell told the independent inquiry he was "unaware" of problems at the school during his first stint as council leader, between 1986 and 1992.
In his resignation letter, he said he had stepped down due to a "persistent campaign" based on "political malice and pure speculation" by a "small minority" inside the party, which had "become a distraction" to the council's work.
He added that there was "no evidence whatsoever I was informed of the events at Knowl View".
Councillor Jacqueline Beswick, who was also nominated for leader, and Councillor Peter Williams said they would not serve in Mr Brett's cabinet.
Mr Williams said Mr Farnell's testimony had been "a disgrace", adding he could not serve a successor who did not represent change or acknowledge the issue.
A Rochdale Council spokesman said Mr Brett's selection would be discussed at a council meeting on Thursday and if approved, he would then formally become leader.