Manchester attack: New homes for tribute teddies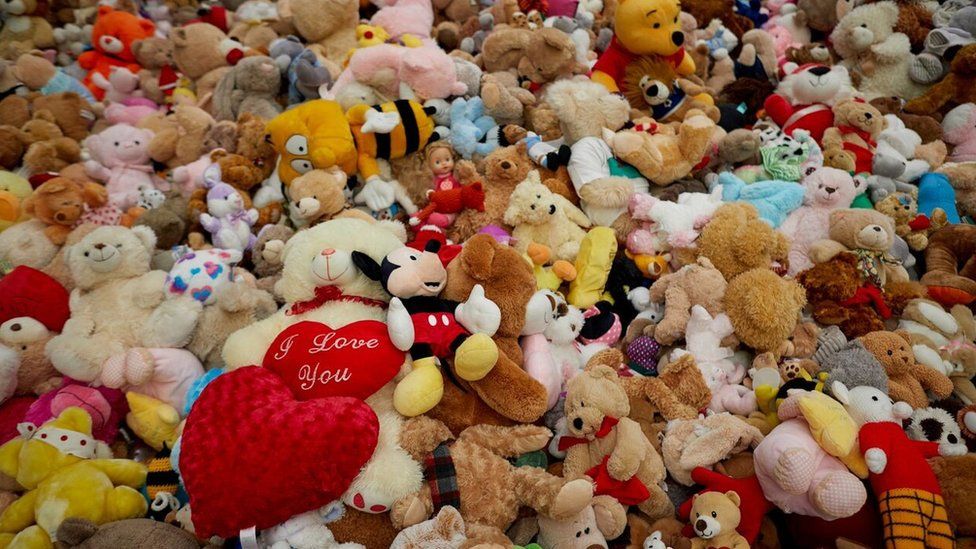 Hundreds of teddies left as tributes to the Manchester Arena attack victims have been given new homes.
About 1,900 soft toys were left in the city's St Ann's Square after the 22 May bomb attack.
The toys were washed and repaired by "an army of Women's Institute members" before being distributed by a number of charities, a council spokesman said.
Councillor Sue Murphy said moving them on was an opportunity to "look towards the future".
Alongside the toys, thousands of other mementoes were left in the square.
Almost 300,000 bouquets of flowers were composted, with a handful pressed, and the written tributes on them were archived
About 600 pot plants were planted around the city, given to residential care homes or planted in Wythenshawe Park
Over 100 balloons were deflated and their messages recorded
About 1,000 other items, including Manchester Run medals, bee-related objects and knitted or sewn tributes, remain in storage
Ms Murphy said "absolutely no-one could have failed to have been moved" by the tributes, adding: "whilst we will never forget what has happened, it's important we also start to look towards the future".
"Moving on this huge family of teddies... for other children now to enjoy and to cherish is a big part of this," she said.