Manchester's children's services 'improve' after critical inspection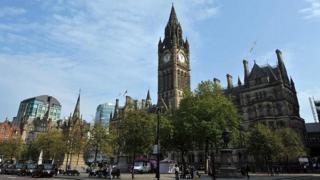 Children's services in Manchester have improved in all areas since being rated "inadequate" in 2014, inspectors said.
Ofsted subsequently told the city council to improve, criticising social workers' caseloads and assessment delays which it said could put up to 500 vulnerable children "at risk".
While inconsistencies regarding children in need of help and protection were found, these were not serious.
The city council pledged "no let up" and has vowed to keep improving.
The re-inspection, which took place between 9 October and 2 November, rated overall services as "requiring improvement to be good".
But it acknowledged that support for children and their families, and protecting them from harm, had "greatly improved".
It also said the number of children receiving help at an early stage was increasing - meaning more children can continue to live safely at home.
'Gradually improving'
Management - described as "ineffective in dealing with serious drift in the completion of assessments" in the original inspection - has now been praised.
The re-inspection report said the creation of additional posts - 86 social workers and 14 managers - and action to tackle poor performance had reduced the average caseloads of social workers, making a "substantive difference to the quality of the service".
A new director of children's services and senior management had been "instrumental in driving the transformation plan" to improve outcomes for children and families, and the council's work with agencies was described by inspectors as "strong".
While "gradually improving", some social work assessments are still "not good enough", the report found, with some children having had too many changes of social worker, making it hard for them to build a trusting relationship.
Recommendations in the report include:
Ensure children in need cases are regularly reviewed under management supervision
Improve the quality of assessments
Review practice regarding domestic abuse and ensure frontline police staff have clear guidelines for children at risk
Ensure caseloads of newly qualified social workers are commensurate with their experience and within national guidelines
Councillor Sheila Newman, executive member for children's services, said the authority would not rest until services were rated "good".
She said her team remains "firmly fixed" on ensuring they provide "the best possible services for our young people".