Cheshire East Council 'whistleblower' in bullying claim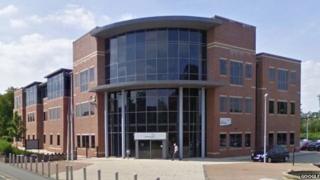 A trading standards officer who says he blew the whistle on "a cover-up of theft from the public purse" at a council was "bullied and harassed", an employment tribunal has heard.
Robert Edwardson said he was "treated differently" after reporting alleged criminality at Cheshire East Council.
Mr Edwardson took the local authority to an employment tribunal after leaving the council earlier this year.
Cheshire East rejected his claims as a "wild conspiracy theory".
The hearing in Birmingham heard Mr Edwardson made a series of whistleblowing complaints, formally known as "protected disclosures", to the council, police and the National Crime Agency.
After making a string of such claims, he alleges he suffered disability discrimination and was paid unfairly.
Feared 'reprisals'
Mr Edwardson told the preliminary hearing "any time I put a complaint in, no action resulted and I suffered further detriment from then on".
He said the whistleblowing complaints "culminated in the worst period of my life where the behaviours were so bad that I thought of committing suicide".
Mr Edwardson said he feared "reprisals" if he made further allegations, adding that "the culture of the organisation" meant "you can't blow the whistle at Cheshire East".
Representing the council, Carlo Breen told the tribunal there was "no evidence" of bullying, adding that the claims were "a conspiracy theory of collusion and dismissal".
"It's not really something you should take seriously at all," he added.
Mr Breen said the council "vehemently denied" that Mr Edwardson had been "discriminated against and treated unfavourably".
He argued that some of Mr Edwardson's claims should be immediately struck out.
The tribunal was adjourned until January.