Pint beer name 'should be reconsidered'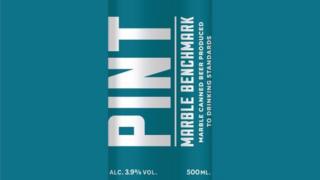 A brewery has been told to "reconsider" the name of its beer, Pint, because the cans it sells it in are too small.
Marble Beers in Manchester received a letter from Trading Standards after it began selling the beer in 500ml cans - 68ml less than a full pint.
Nigel Murphy, a city councillor, said while the naming issue might appear "trivial", it could lead to a "small misunderstanding".
Marble said it would change the name to "satisfy the bureaucratic needs".
The brewery has been making Pint for a number of years but first put it into cans in early 2017.
Its owner Jan Rogers said: "We're a small company that doesn't have the time or resources to get involved in a legal battle about this matter."
Trading Standards said the name could be deemed "misleading" under the Consumer Protection from Unfair Trading Regulations 2008 and the Weights and Measures Act 1985.
The brewery will also be seeking clarity of selling the beer on draught in all measures, Ms Rogers added.
Manchester beer blogger Jim Cullen said the situation was "ludicrous".
"The 500ml can is an industry standard format. Are we saying that to package this beer that Marble would have to alter all their packaging processes - with vastly increased costs - for a single complaint?," he said.
Mr Murphy, Manchester City Council executive member for neighbourhoods, said: "I am certain that Marble Breweries in no way intend to deceive, though we did receive a complaint and so contacted them to offer advice. "