Tributes to Tameside Council leader who died on Christmas Day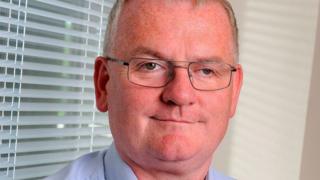 Tributes have been paid to a council leader who suffered a heart attack while delivering Christmas cards.
Kieran Quinn, 56, fell ill while taking the cards to his constituents in Droylsden, Greater Manchester, on Saturday.
Mr Quinn, the executive leader of Tameside Council, died in hospital on the evening of Christmas Day.
The council said he will be "sorely missed" and praised his "enormous contribution" to the community.
A book of condolences will be set up, the authority added.
The Lord Mayor of Manchester, Eddy Newman, is among those who have paid tribute to Mr Quinn.
Mr Quinn was first elected to Tameside Council in 1994 and became executive leader in 2010.
He was also chairman of the Greater Manchester Pension Fund.
Tameside Council said he was "extremely hard working with an unfailingly generous personality".
"First and foremost he was a great family man rooted in the community of Droylsden and Tameside. A deep belief that everyone was entitled to a good and fair start in life led him to dedicate his life to public service - working for others and the community he loved," a council spokesman said.
The council added: "The huge gap which will be left in public life in Tameside following his passing is a testament to the depth and breadth of his contribution to our community.
"As are the many achievements and the significant legacy of his near quarter century of service on the council, and in other roles within and beyond Tameside."
Mr Quinn is survived by his wife Susan Quinn, who is also a councillor, and their two sons.
Deputy leader John Taylor will lead the council and address any business matters.