MP Angela Rayner's tribute to Tameside Council leader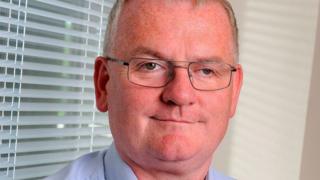 A council leader who died after collapsing while delivering Christmas cards was "my mentor and friend", MP Angela Rayner has said.
Father-of-two Kieran Quinn, 56, suffered a heart attack while taking cards to constituents in Droylsden, Greater Manchester, on Saturday.
The Tameside Council leader, who also worked with the Ashton-under-Lyne MP, died in hospital on Christmas Day.
Ms Rayner said her agent, Mr Quinn, "always thought of everybody else".
The Labour MP, who was elected in 2015, said: "He always thought of everybody else. He would never push himself, he always pushed others and this is what he did for me.
"Since I was elected the first female MP in Tameside, Kieran was so proud of everything we'd achieved together and I wouldn't have got through the last couple of years without him.
"Kieran was always there for me and always on the phone."
She said in his last message to her, Mr Quinn he was dealing with two homeless people who could not find shelter.
Ms Rayner said: "He had instantly picked up the phone and dealt with it - that's the sort of person he was.
"His last message was 'Ange I'm just pleased I was able to help'."
Mr Quinn was first elected to Tameside Council in 1994 and became executive leader in 2010.
He was also chairman of the Greater Manchester Pension Fund.
Mr Quinn is survived by his wife Susan Quinn, who is also a councillor, and their two sons.
Deputy leader John Taylor will take temporary charge of the council.