Man held over Christmas Day body found in Rochdale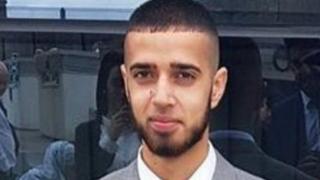 A man has been arrested on suspicion of murder after the discovery of a body in a country lane on Christmas Day.
Mohammed Aftab, 21, was found dead at about 08:15 GMT in Dyehouse Lane, Rochdale, Greater Manchester.
While his exact cause of death has yet to be established, detectives said he suffered "multiple head injuries and stab wounds to the neck".
A 26-year-old was arrested in the Preston area. Greater Manchester Police said he remains in custody.
'Heartbroken'
Police said they are continuing attempts to establish Mr Aftab's final movements.
Mr Aftab's father Altaf Hussain said his son's death was a "devastating loss".
"Aftab was a bubbly person, he was loving towards all his family. Nobody had a bad word to say about [him], this has left all his friends and family heartbroken.
"[He] loved football, he was an avid Arsenal supporter. Aftab would regularly go to prayers and he also went to an Islamic pilgrimage to Mecca with his mother."
Mr Hussain thanked people in Rochdale who he said had shown his family "unimaginable support".