Tony Walsh's This is The Place poem gifted to Manchester charity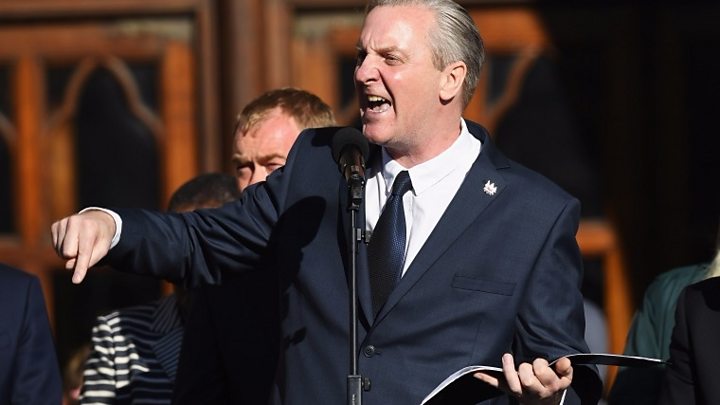 A Manchester poet is donating proceeds from the poem "This is The Place" to a charity that supports grassroots community projects.
Tony Walsh's poem became a symbol of defiance when he read it before a crowd of thousands at a vigil for the Manchester Arena attack victims.
He said future royalties would go to Forever Manchester, which originally commissioned the piece.
The full-time poet said it was a way to "give something back" to the city.
He said it was "an honour and a privilege" to be asked to perform at the vigil the day after the 22 May terrorist attack that killed 22 people.
"People ask me if I wrote it (the poem) on the day, but I didn't, it was commissioned by Forever Manchester to sum up the passion, the history of Greater Manchester.
"The version I did in the square has about 12 or 16 lines missing which say 'if you feel like this about our city then we're the charity for you'.
"But at the end of the poem where I say 'This is the place, we should give something back', this is me trying to do that now with the poem."
He said so far the poem had raised about £160,000, mainly from the This Is The Place book which is raising money for three charities.
Mr Walsh, who writes as Longfella, said: "Literally not a day has gone by when people haven't asked me can they use the poem in all sorts of different ways, from schools to restaurants wanting to paint it on the wall.
"People think they don't like poetry, the equate it with classical music. But there are as many types of poetry as there are types of music and I try and make my poetry both easy to understand and make people feel something with it."