Rochdale Riverside £80m retail plan 'will go ahead'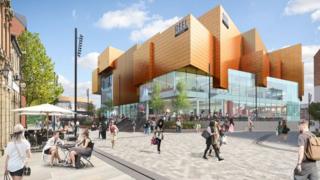 A council has vowed to continue with an £80m retail and leisure development despite Marks and Spencer pulling out of plans for a flagship store.
At a special meeting on Thursday Rochdale Council said the Riverside scheme will still go ahead.
The authority said it is preparing to make a "number of high profile announcements" in the next few weeks.
Marks and Spencer said in November "tough decisions" were made not to relocate to the complex.
But council leader Allen Brett said he "fully expected" the store to honour its "legally binding contract".
'New and exciting future'
The complex, which will have about 24 shops, restaurants and a cinema, was approved by councillors in April.
It was further discussed by councillors at the meeting in light of fears the project could be in jeopardy.
But councillor John Blundell, cabinet member for regeneration said the development "is about a new and exciting future for Rochdale and we fully intend to deliver it".
Ground investigations to assess conditions before construction starts are due to start next week.
A spokesperson for Marks and Spencer said it was investing in new stores, relocating some and closing others.
"In this case, we don't believe relocating the store is the right move and have therefore informed the council that we no longer intend to proceed.
"Instead our intention is to continue to serve customers in Rochdale from our Yorkshire Street store."