Devil mask thieves lock priest in Reddish church before stealing cash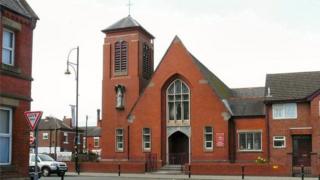 Burglars wearing a devil mask and a balaclava broke into a church before locking a priest in a cupboard and stealing cash from a charity box.
Two men entered St Joseph's Church in Reddish, Greater Manchester, before threatening the priest with a screwdriver early on Tuesday morning.
They stole a laptop, watch and the priest's iPhone before forcing him to take them to where donations were kept.
They then locked the clergyman in a cupboard, took the money and fled.
Two other priests hid in their rooms after hearing what was going on before dialling 999.
'Lowest of the low'
Greater Manchester Police are now appealing for anyone with information about the "terrifying" burglary to contact them.
The suspects were both described as white. One had ginger hair, which may have been a wig.
Det Con Andrew Budsworth described the offenders as "the lowest of the low".
He added: "They knew that they were intending on stealing money that had been donated to charity.
"The victims were left incredibly shaken and we are doing all that we can to help them through it and get them the justice they deserve."