Manchester Arena attack: Theresa May announces payout package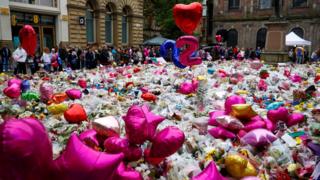 Manchester is to receive an extra £13m reimbursement from the government for most of the costs following the Arena terror attack, the prime minister said.
The package includes more than £9m for policing and £2.6m for a mental health hub.
In November, Manchester City Council said it wanted an extra £17m for the costs of dealing with the bombing.
Twenty-two people were killed and 512 injured in the Manchester Arena attack on 22 May.
Prime Minister Theresa May's office said the new funding, which also includes more than £1m for the We Love Manchester Fund, brought the amount paid by the government to £24m.
It added that the payout recognised "the exceptional response required by the city as a result of this cowardly act".
'Disappointing'
Mrs May said: "Following last year's terrible attack the strength and resilience of Manchester captured the nation - and nowhere was this more apparent than at the One Love Concert and city vigils where people joined together not only in grief, but to demonstrate to terrorists that they will never win."
Also included in the package is £250,000 to Marketing Manchester to continue promoting the city and the region.
Sir Richard Leese, leader of Manchester City Council, welcomed the funding but said "it is disappointing" that the government has "not reimbursed the full costs incurred by the council as a result of this horrific event".
"It is only right and proper that - as they promised at the time - the government should pick up these costs [incurred by Manchester's public services] rather than the people of Manchester having to do so," he said.
Greater Manchester Mayor Andy Burnham said he is "grateful" the prime minister "has taken a personal interest" in ensuring "a clear commitment to meet the majority of the costs".
However, he said "there remain important outstanding issues" that he and Sir Richard will seek to resolve with the government.
The inquests into the victims' deaths, which opened and adjourned in June, heard 220 people required hospital treatment in the aftermath of the attack.