Ryan Giggs and Gary Neville's £200m Manchester plan opposed again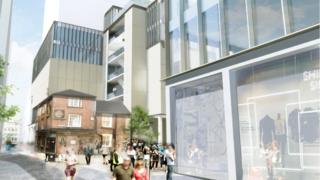 Gary Neville and Ryan Giggs's £200m plan to redevelop part of Manchester city centre has been snubbed for a second time by conservationists.
After criticism from Historic England (HE) in July, plans to build one of two skyscrapers in the Jackson's Row area of the city were scrapped.
HE said it still could not back the St Michael's scheme due to the "cumulative harm" to nearby listed buildings.
Neville said their plan would boost the area's economy and create 1,500 jobs.
HE acknowledged the scheme "could really help with the regeneration of Manchester", bringing some buildings back into use as well as enhancing the surrounding conservation area.
But it said it was "yet to be convinced" the economic benefits of the former Manchester United stars' proposals would outweigh the "harm caused to the significance of the heritage assets".
Spokeswoman Catherine Dewar welcomed the revised proposal to build only one tower, as well as to move its location in order to limit the effect on nearby landmarks, including Manchester town hall, the Albert Memorial and St Ann's Church.
But she said: "Introducing such a tall building in this important and sensitive location will have an unavoidable impact on the setting of three of Manchester's finest Grade I listed buildings."
HE has written to Manchester City Council which said that since the application was currently with its planning department, it would be inappropriate to comment at this stage.
The public consultation period for the revised proposals ends on Wednesday.
Were planning permission to be granted, work could start within months.