Coronation Street cancer tale 'may have saved my life'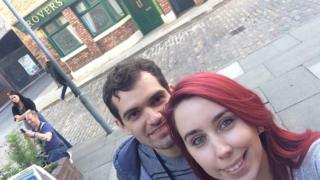 A Coronation Street fan who discovered a lump in his groin after a testicular cancer storyline says the soap may have saved his life.
Scott Wray, 27, had a 1.5cm growth removed by surgeons and wife Emily tweeted her gratitude to the show.
Actor Tristan Gemmill, whose character Robert Preston had a similar ordeal, sent Scott "a hearty man-hug".
Scott said he was "forever grateful" to the soap and got to thank Tristan personally on BBC Radio Manchester.
The Corrie fan, from Shotton Colliery, County Durham, now lives in Ontario, Canada, where the soap is "very popular".
He and Emily, 27, are big fans and visited the set in 2015 while he was working in the UK to save for their wedding.
When bistro owner character Robert Preston found a testicular growth, it prompted Scott to check himself more thoroughly than usual and he found the 1.5cm lump.
Surgeons performed an orchiectomy to remove one testicle on 27 January and Scott is awaiting a blood test to find out if he is in the clear.
He was told it appeared the cancer had not spread but that doctors could not yet be "100% sure".
The retail worker said while character Robert agonised about having an operation, he "just went and got it done".
"I would have freaked out a lot more if I hadn't seen somebody go through it already," he said.
"The writing was very accurate. The surgeon said he was surprised the show prompted me to do it.
"Coronation Street might have saved my life. It helped me get potentially life-saving surgery and I will be forever grateful."
The couple have since been interviewed on BBC Radio Manchester and got a surprise when Tristan joined them on air.
The actor told him: "Everyone at Corrie is completely over the moon that our story has led to this situation.
"We wish you all the best, Hopefully the outlook will be bright for you."