Rochdale fire: Homes evacuated after industrial unit blaze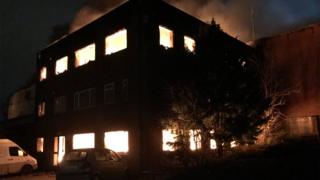 About 100 firefighters have spent the night tackling a blaze at an industrial unit in Greater Manchester.
Crews were called to Albert Royds Street in Rochdale at about 01:20 GMT, Greater Manchester Fire and Rescue Service said.
A number of homes have been evacuated and several schools have been closed because of the smoke.
The blaze is under control but crews are expected to be on site for the rest of the day.
At its height between 03:00 and 07:00, firefighters were using more than 10,000 litres of water every minute to douse the flames.
United Utilities said some local residents suffered "poor pressure" or "discoloured" water as a result.
The fire is causing disruption to trains, with National Rail warning of bus replacements and a limited service between Rochdale and Todmorden.
By 15:00, the effort had been scaled back to four fire crews and two aerial units after 14 hours.
Area manager Ben Levy, of Greater Manchester Fire and Rescue Service, said: "Crews have worked tirelessly to bring the fire under control.
"They worked quickly and efficiently to protect neighbouring properties because when we arrived there was a very real and immediate risk that the fire could spread to nearby houses.
"Thankfully, the actions of our firefighters meant that was not the case."
The public are still advised to keep doors and windows closed if there is any visible smoke and to avoid the area as the road remains closed.