Lollipop man's high-five ban lifted in U-turn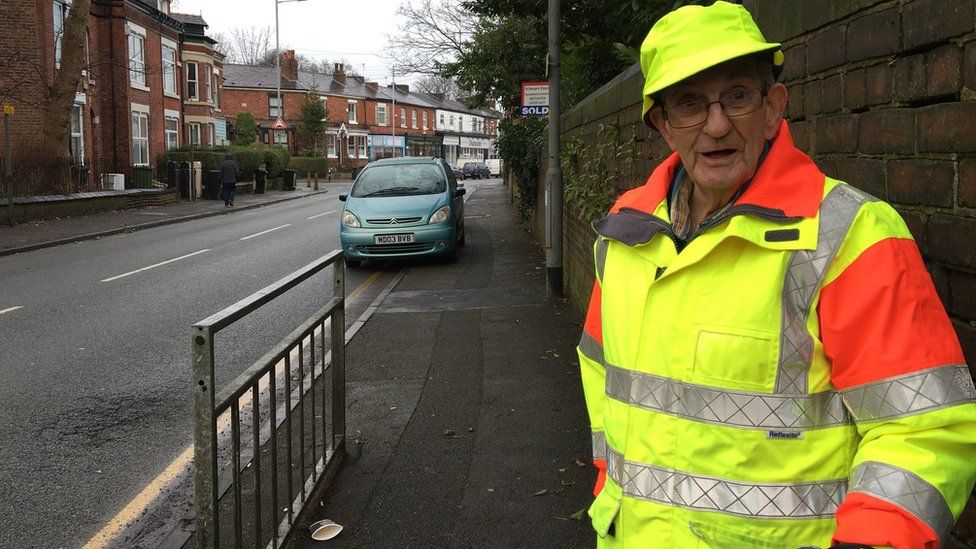 A ban stopping an 83-year-old lollipop man from high-fiving schoolchildren has been lifted in a council U-turn.
Colin Spencer has worked as a lollipop man for St George's Primary School in Heaviley, Stockport, for 14 years.
Stockport Council angered parents last week when it ordered him to stop the high-fives to "concentrate on ensuring highway safety".
However, the council has now apologised and admitted it was "clearly wrong" to impose the ban.
Parents had described how they were sent a text message on Tuesday via the school asking them to tell their children not to high-five Mr Spencer on the road.
A text the following day said children could high-five Mr Spencer - but only on the pavement.
Mr Spencer had previously said the decision had left some pupils in tears, unable to understand why he could no longer high-five them on the road.
In its latest statement the council said: "Following the recent reports surrounding Stockport Council's lollipop man, Colin Spencer, we want to apologise for the unnecessary concern caused by the issuing of an instruction that was clearly wrong".
Sheila Bailey, the council's executive member for communities and housing, added: "Colin has been an outstanding public servant and a popular member of his community for many years.
"It's fantastic that he works with a smile on his face and brightens up the day for so many children."
Ms Bailey added: "We try to make the service as safe as possible as well as maintaining the unique personalities that each member of the team brings to their school. We are sorry, that on this occasion, the council got it wrong."
Dawn St Clare, whose children go to the school, told the BBC last week she thought the ruling was "ridiculous" and had annoyed parents and upset pupils.
Related Internet Links
The BBC is not responsible for the content of external sites.