Five Salford nurseries under threat of closure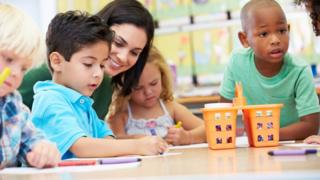 Five nurseries in Greater Manchester are under threat of closure amid concerns they have become too expensive to run.
Salford City Council said it could no longer afford to contribute annual running costs of more than £3m.
A consultation has begun and the authority said it would "welcome proposals" for solutions from the voluntary and private sectors.
Parents were informed of the news in a letter from the council.
The letter said the council was "committed to supporting anyone who has alternative, affordable proposals to keep the nurseries open".
However, it said if no solution is found, the nurseries will close by 3 September.
The letter said: "We appreciate this may be an extremely difficult time. Please be assured that we will support you through this process, with a particular focus on finding alternative, suitable early years provision if needed."
'People working hard'
Salford has five council-run day nurseries, providing 327 places for children and 106 posts for staff. All five currently have "outstanding" Ofsted ratings.
Lisa Stone, the council's lead member for children and young people's services, said the situation was a "direct result" of changes to central government funding.
In a post on her Facebook page, she wrote: "If we do not find an alternative, cost neutral solution, or close the nurseries, we will have to make cuts in other services that are provided for thousands of children and families across the city.
"We have more children living in Salford as the population of the city continues to grow, many with more complex needs."
People have also taken to social media to respond to the news.
Moira Robertson wrote: "There are so many people working hard to support the economic growth and development of Salford. It truly means nothing if our council is having to make decisions which possibly may impact on children's lives forever"