Ancoats murder inquiry after man jumps from window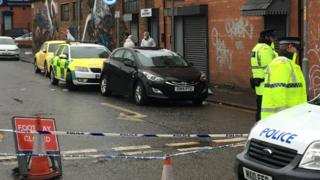 A woman has been found dead in a flat in Manchester after reports of a man jumping from a second storey window.
The man reportedly jumped from a building in Swan Street, Ancoats, before "a number of people" were assaulted at about 07:40 GMT, police said.
Police later entered a flat and found the body of a woman.
A 37-year-old man has been arrested on suspicion of murder and remains in custody for questioning.
Several roads remain closed including Swan Street, and police are advising people to avoid the area.
The man landed on the roof of a car after jumping from the building, cracking the front and rear windscreens.
Ben Sheridan, who was in the vehicle with his mother and father, told the Manchester Evening News: "He jumped out of the window, on to our car.
"And then he's run off, attacked a few people and smashed some other cars up.
"We were just getting ready to leave and he's hit my mum a couple of times. I'm starting to calm down but I'm still quite panicked."
From the scene: Ian Haslam, BBC News
There's a heavy police presence here on Swan Street in Ancoats.
Officers were called to reports that a man had jumped from an upper floor and landed on a car below that, at the time, had people in it.
There are then reports that a man assaulted a number of people in the street.
Following the arrest of a 37-year-old man, officers discovered the body of a woman in a flat, transforming this into a murder inquiry.
Greater Manchester Police said the investigation was at an early stage and appealed for witnesses to contact them.
Supt Chris Hill said: "We are currently working to establish the exact circumstances surrounding what has happened this morning and the woman's death."
An ambulance service spokesman said one person injured in the incident had been taken to hospital.