Ancoats Dispensary: Campaigners welcome housing proposals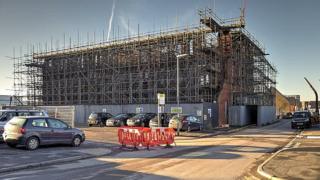 Proposals to turn a Victorian hospital into affordable housing have been welcomed by campaigners working to save the Grade II-listed building.
The Ancoats Dispensary Trust (ADT) said they were "excited [it] has a future" after plans to turn the building into a community hub fell through in December.
ADT's Linda Carter said the group were "happy it is saved from demolition".
Owners Manchester City Council said it would now work with developers to create homes in the dispensary.
The dispensary was built in the 1870s to serve the heavily-populated areas of north Manchester and was sketched by artist LS Lowry in his 1952 drawing, Ancoats Hospital Outpatients' Hall.
The building has fallen in disrepair and is covered in scaffolding.
In December, the National Lottery Heritage Fund rejected a £4.3m application to restore the building as it was "too risky", leaving ADT unable to raise the funds needed to create the hub.
Ms Carter said the housing scheme proposals represented a "real bittersweet moment".
"I'm relieved the building is going to remain and excited that it has a future - however, it is sad that we could not have saved it just for the community," she said.
"But at the end of the day, we have to be happy that it is saved from demolition."
The council's deputy leader Bernard Priest said they would "partner" with Great Places Housing Group "to build affordable homes while maintaining as much of the fabric of the building as possible".