Manchester City name second man linked with sexual abuse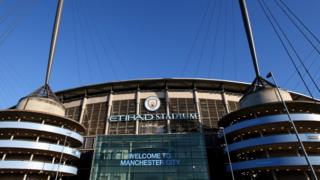 Manchester City has named a second man linked with the club who is alleged to have sexually abused children.
John Broome, who is dead, was identified as part of an inquiry into the allegations against Barry Bennell.
Bennell, who worked with Manchester City and Crewe Alexandra's youth teams, has been convicted of 43 sexual offences against boys.
The club said investigations into Mr Broome, who is not believed to be linked to Bennell, are continuing.
A review into sexual abuse was launched by the Premier League club in November 2016.
It said it has worked with police investigations and the Football Association, which is conducting its own inquiry into allegations of historical sex abuse.
In addition to the allegations against Mr Broome and Bennell, the club is looking into a number of other reports and "historic anomalous behaviours", it said.
These are over a period spanning more than 50 years but the club said it cannot give more details due to ongoing legal investigations.
In a statement, Manchester City said it is focused on completing its review to the "highest standard possible".
"It is expected that further information which will assist in the completion of the review will become available as related legal proceedings conclude, after which a more comprehensive public position can and will be set out," it said.