Bury PC who dived in River Irwell to save man 'can't swim'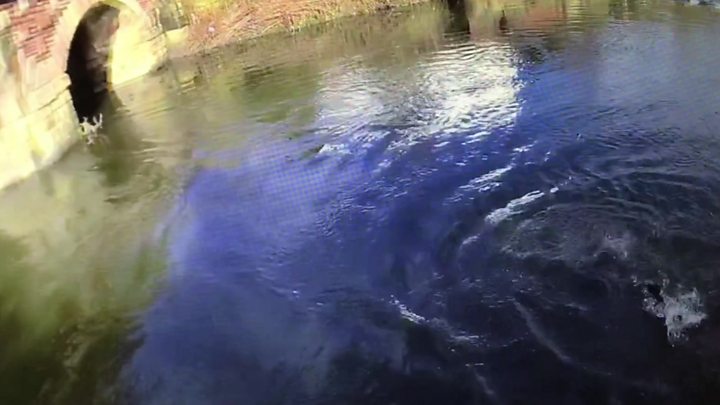 A police officer who dived 8ft (2.4m) into a freezing river to save a man from drowning said he can't swim.
PC Mohammed Nadeem leapt into the River Irwell in Bury, Greater Manchester, on Saturday after a man fell in the water.
He said he "just had to go in" after seeing the man drowning, and that he spent about 25 minutes in the water after diving in.
The student officer's actions were commended by Greater Manchester Police.
PC Nadeem said he did not think about how cold or deep the water was nor about taking his heavy body armour off when he saw the man in distress.
"I can't swim. I'm not a good swimmer at all and having all the extra body gear was very hard but somehow I got to him... and we got to the side and waited for help.
"It was very dangerous but I just had to go in... seeing this man drowning I just couldn't wait."
The whole incident was captured on PC Nadeem's body camera.
The fire service then helped the pair up a ladder to safety and they were taken to hospital for treatment.
PC Nadeem said: "I was really cold, my legs were shaking. I couldn't really talk much because we were in the water for about 25 minutes.
"It was absolutely freezing."
Supt Rick Jackson, of Greater Manchester Police said: "Without hesitation, PC Nadeem dived off an eight foot drop into freezing, deep and fast moving water."
He said this was "a prime example of why people join the force - to protect people and make sure they are away from harm".
He added that PC Nadeem has now been nicknamed "The Hoff" by his colleagues.
You might also like: