Manchester Metrolink tram users hit by overhead line problems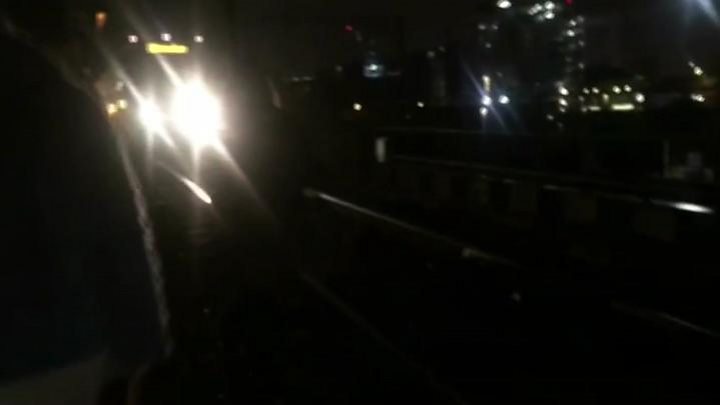 Passengers using Manchester's Metrolink trams have been delayed due to overhead line problems, with some saying they had to walk alongside tram tracks after being stranded on services.
All trams were suspended on the Bury line from 14:38 GMT as technicians tried to fix a problem in Radcliffe.
A separate issue at Deansgate announced at 16:19 GMT meant all services to the city centre halted at Cornbrook.
Metrolink apologised and put on replacement buses for some services.
The operator also said tickets were being accepted on trains and Stagecoach buses.
Adam Higgins said he was on a tram which stopped between Trafford Bar and Cornbrook for more than an hour.
The driver "reluctantly" opened the doors after a woman said she needed to use the toilet, he said.
"We all had to jump around 12ft to get to the ground," he said.
"We were around 100 yards from Cornbrook and it was completely dark. We had to walk across the stones directly next to the track where trams were running towards Altrincham back to Cornbrook tram stop, which was completely crowded."
'It's ridiculous'
Danny Vaughan, head of Metrolink for Transport for Greater Manchester (TfGM) apologised for the disruption.
"A number of customers were on trams that had to be halted between stops and left the vehicles before Metrolink staff were able to help them off," he said.
He added the issues at Deansgate-Castlefield should be repaired overnight.
But services on the Bury line are "unlikely" to be running again until midday at the earliest, he said.
Passengers affected by the problems at peak time were quick to make their feelings known on Twitter.
Kirsty Millburn tweeted: "I've never known any other transport services to have issues like Manchester's Metrolink does. It always seems to be during peak times when everyone wants to go home too!"
And Dan Scott wrote: "Surely Metrolink should be better equipped than this! It's ridiculous!"
Greater Manchester mayor Andy Burnham tweeted that he had asked for an urgent report on the cause of the disruption.