The Hoff praises Bury river rescue PC Mohammed Nadeem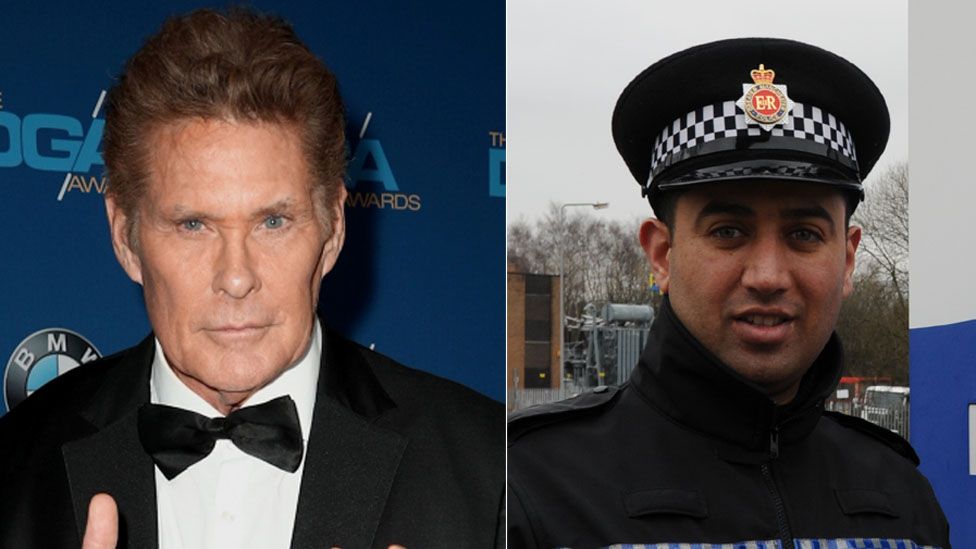 Actor David Hasselhoff has praised a student police officer for jumping down 8ft (2.4m) into a freezing river to save a drowning man.
Hasselhoff, who starred in Baywatch and Knight Rider, said PC Nadeem was the "new Hoff".
His publicist said the US star wanted to personally praise PC Nadeem when he is in the UK next month.
You might also be interested in:
PC Nadeem said he "just had to" jump in to save the man when he saw him in distress, even though he cannot swim.
He said he "somehow managed" to drag him to the side of the river.
Both were helped to safety by the fire service and were treated by paramedics before being taken to hospital, said Greater Manchester Police (GMP).
Hasselhoff, who has seen video of the rescue, said: "The real heroes are the ones who act on instinct without hesitation, the ones who believe that we all can help each other.
"I want to meet the real heroes and say, 'Good on you. Let me shake your hand'.
"'One man can make a difference' is the theme of Knight Rider. This student police officer made the difference.
"So cool, so proud. Give it up for Mohammed, the new Hoff."
PC Nadeem said he was looking forward to meeting the "original Hoff".
He said he had been "overwhelmed" by the public's response to his actions.
"It's great that the work of GMP officers has been appreciated in such a huge way," he said.
Related Internet Links
The BBC is not responsible for the content of external sites.