Winter Hill: Man recalls aftermath of 1958 air disaster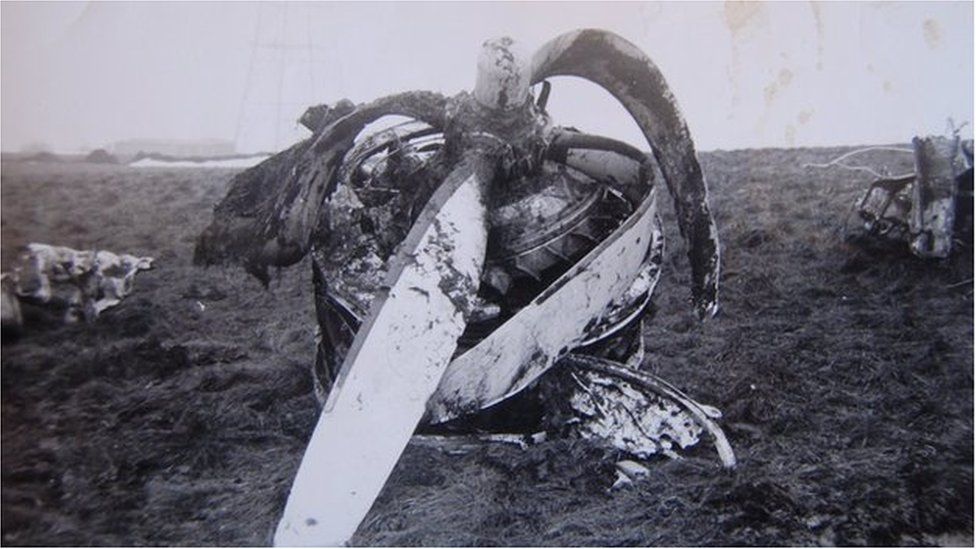 A man has described his memories of arriving at the scene of a "forgotten" air disaster in which 35 people died.
Only seven people survived when a flight bound for Manchester crashed near Horwich, Greater Manchester on 27 February 1958.
Memorial services have been taking place to mark the 60th anniversary.
Arthur Brooks, a schoolboy at the time, has described rummaging among the debris of the wreckage and even climbing inside the cockpit.
Now 74, he believes the crash remains largely "forgotten" because it happened three weeks after the Munich air disaster.
He told how he and some friends had seen a rescue helicopter fly across their school towards the crash site, on the north-east slope of Winter Hill.
The group later arrived to find what Mr Brooks described as a scene of "devastation".
While the victims' bodies had been removed, the emergency services had left the site undisturbed, as a Civil Aviation Authority (CAA) investigation was due to begin.
Mr Brooks, of Bolton, said: "Five of us decided we'd go up and have a look that night. There were no buses so we walked the six miles.
"All the casualties had been removed but the police had gone away. It was the responsibility of the CAA to look after the wreckage.
"It was just an utter scene of devastation. There were bits and pieces everywhere."
Mr Brooks said only two sections of the wreckage were recognisable - the plane's tail, and a section of the fuselage and cockpit.
"We didn't recognise it at first," he said. "We dropped down through a hole and found ourselves in the cockpit.
"Fourteen years old, it was just a big adventure to us. We weren't really thinking about what had actually happened.
"We were playing about with all the controls and all that. We were there a couple of hours."
Before long "about 20 or 25 adults" had also arrived at the site out of curiosity, Mr Brooks said.
"You were just staggered. You couldn't believe how much it had broken up."
The plane had crashed after a key navigational error during hazardous snow and fog.
Most of the victims were mechanics, engineers and motor traders from the Isle of Man who were on a trip to visit Manchester's Exide battery factory.
Horwich Rotary Club members were widely praised for being heavily involved in rescue attempts, digging through snowdrifts to reach the injured.
A memorial service organised by the Rotary Club of Douglas was held on Monday at the Winter Hill Memorial in St John's, on the Isle of Man.
Another event was due to take place at Winter Hill itself.
Mr Brooks said he believes it is important to continue to remember the disaster.
"As a kid at the time I didn't think about it. As a 14-year-old it's just 'an aircraft has crashed, let's go and have a look'.
"But as you get older you realise there were 35 people who perished up there. It should be remembered, always. It upsets me thinking about it.
"To me it's always been a great injustice that the Munich air crash, because they were a football team, that was worldwide news. But this one is hardly ever mentioned and yet more people died here.
"It's not forgotten by the locals but probably around the country and never mind worldwide, most people don't even know about it."